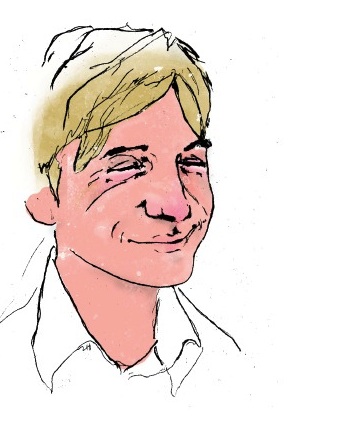 She Plays Yo Yo With My Mind
San Francisco has born an eclectic array of musical voices, from precocious cult acts like the Grateful Dead to mainstream mediocrity like Third Eye Blind. It's in this creatively and culturally rich landscape—at the very crux of the counterculture—that the prolific and personable Sonny Smith resides.
Smith is the bandleader of Sonny & the Sunsets, whose 2010 long player, Tomorrow is Alright, was mooned over critically, but was missed by many as yet another one of those great records you've never heard of. However, with momentum slowly building behind the band—though initially issued on the niche Minneapolis label Soft Abuse, Tomorrow is Alright was recently re-released by the notable Fat Possum imprint—a follow-up is already hotly anticipated. But will tomorrow really be alright?
"I don't know," Smith deadpanned regarding his group's future. "I have no crystal ball."
One could argue that Sonny & the Sunsets are garage rock revivalists, but they're also purveyors of paisley pop's psychedelic freak flashes. Generous dollops of doo-wop and the occasional dip into country-tinged territories fill out the gaps. Think along the lines of Camper Van Beethoven, the Falcons or Jonathan Richman and you'll be splashing in Sonny & the Sunsets' warm waters.
"Speaking of Jonathan Richman," said Smith, with something matching child-like wonder, "He's a genius. I'm certainly influenced by him. I once saw him play at a fundraiser and he had the audience in the palm of his hand within seconds. He was marvellous. He danced around. He cracked a few jokes, played a song or two; he really filled the entire hall with a magical feeling."
Many would agree there's a lot of magic with Sonny & the Sunsets, too. Back in 2007, Smith summoned an impressive cadre of musicians to make up his band. You've got Tim Cohen and Shayde Sartin (both from garage rock band the Fresh & Onlys), Tahlia Harbour (of the Beach Boys-influenced psych pop band Citay and the Americana act, the Dry Spells) and Sub Pop paragon Kelley Stoltz. Not to be outshone by his Sunsets, Smith himself is more than an established musician—he began his musical career as a blues pianist in his teens. The band leader is also a multimedia artist and playwright.
For proof of Smith's lofty and lively musical accomplishments, one needn't look further than his 2010 project, 100 Records. The installation found Smith assembling 100 artists to create record artwork for a slough of imaginary bands. Smith then wrote two songs, an A-side and a B-side, for each fictional act, visiting and exploring different genres and personas throughout the project. You think Stephin Merritt had a rough time penning 69 Love Songs? Well, Smith somehow conjured up 200 songs as if he were a bedevilled black magician.
After wrapping up its initial seven-week stretch at Gallery 16 in San Francisco last May, the 100 Records show also made its way through Austin and later New York City. To go along with the art work and albums, Smith had a custom built jukebox loaded with all 200 songs score the show. Talk about a visionary enterprise!
"Oh I don't know," Smith said modestly. "100 Records was ambitious, I guess. It was fun and it was hard. I felt a little empty after it was over."
Interestingly, what may have been the creative catalyst for Smith's oeuvre was a near-drowning experience off the Northern Californian coast a couple years ago. Watery imagery and pitch black humour permeate Tomorrow is Alright. In songs like "Planet of Women" and "Bad Vibes & Evil Thoughts" Smith presents off-kilter narratives that play like B-movie cock-and-bull mortality tales. In the breezy, bouyant and hook-filled "Death Cream" Smith teases, "I put it on you and you put it on me / Da da death cream," and it doesn't sound like a grungy way to give up the ghost at all.
As if he weren't busy enough, Smith started writing a novel, titled Adelard the Drowned, though he may not get around to finishing it. Perhaps when death brushes by so closely it's best to distract oneself from less ghoulish designs, right?
"I prefer to skim board now," chuckled Smith, "which is like surfing for people afraid of drowning, like me."
Smith has reason to keep running and to pick and choose his water sports warily and with tact. Sure, he's diligently finishing his new, as yet untitled album, and he's rehearsing for his tour, but paramount for Smith is spending time with his girlfriend and their six-year-old son.
"Raising my kid can make me feel more than a little proud, y'know? The musician's life isn't totally conducive to child-rearing," Smith admitted, "but I've kept my shoulder to the wheel on that end. I've made some career sacrifices to stay in there, to stay dedicated. Any musician out there with a kid reading this knows what I'm talking about."
As dedicated a dad as he may be, sometimes Smith just has to follow the call of the road. Though Sonny & the Sunsets stopped by our city just last October, the group is hitting up Vancouver again with Brooklyn's the Blow for a gig at the Media Club, Feb. 5.
"I'm just happy to get around and make music in different places, ya know?" Smith enthuses.
But does it look like Smith and company will ride off into the proverbial sunset, flushed with success?
"Hmmm…" he teased, giving a thoughtful pause. "Jeez, I don't know. I'm not some highly centred person at peace with myself and everything, nor am I on a constant manic emotional rollercoaster. Is that considered success?"