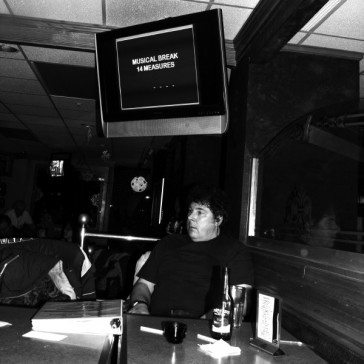 Since it's beginnings in 1970s Japan, the popularity of karaoke has spread around the world. Whether it's in the shower, in the car, or on a karaoke stage, people love to sing. But what makes karaoke good? A friend of mine said it's all about commitment. You pick a song and you have to sing it. You have to put your all into it, perhaps imitating the original singer, making your audience laugh and sing along, or simply cringe in delight. These are just some of the karaoke nights around town, excluding places with private rooms.
Hip Hop Karaoke
Where: Fortune Sound Club, 147 East Pender
When: 3rd Monday of every month, from 9:00 p.m.
Cost: $7 after 10:30 p.m.
The rules of Hip Hop Karaoke (HHK) at Fortune Sound Club are as follows: 1) be good and 2) don't be a dick. The latter was added when someone threw something at the first performer of the night just as he was stepping up to the stage. Host DJ SEKO made no bones about calling out dickish behaviour all night.
Fortunately, he didn't have to do it often.
HHK is hardly as intimidating as it could be—more high school talent show than ironic hipster karaoke bar. Most of the performers had clearly practiced into their toothbrushes at home, and the audience, for all its occasional brattiness, wanted to support their efforts.
The karaoke was separated into three segments of four to five songs, so that people could dance to the real tracks between sets. Each segment had its highlights, but the night's ultimate props go out to the four girls who were called up on stage to each sing a line from Jay-Z's "Empire State of Mind," with the best one winning a free CD. A good test of grit is to get someone drunk and then make them sing without preparation in front of a crowd of heckling hip hop fans. Luckily, the unspoken third rule of HHK is that a mastery of rhythm, pitch and lyrics takes a back seat to owning the stage; even the drunkest, most timid girl up there was a rock star for four or five seconds.
—Miranda Martini
Main Street Legion
Where: 3917 Main Street
When: Wednesdays and Saturdays from 8:00 p.m.
Cost: free
If you're looking for a karaoke venue that makes you feel like a struggling musician in a sketchy bar, then the Legion is the spot for you. The venue is definitely not for the shy type as it draws one of the largest crowds for karaoke in Vancouver. The night is held every Wednesday and Saturday with no cover and features two dollar beers on tap, and four dollar bottles. Keep in mind that it is actually possible to avoid the monstrous line for the bar. Servers walk throughout the venue, so if you catch their attention, waiting in line is unnecessary.
The night consistently draws a large, intimidating crowd that ranges from twenty-somethings to senior citizens (it is a Legion after all). If you plan on performing, you absolutely must come by nine o'clock and put two songs in right away, otherwise you'll only be observing other karaoke enthusiasts.
The songbook is decent, ranging from the Beatles to the Backstreet Boys, and current Top 40 hits in the "New Additions" section. An older gentleman that has a Richie Sambora essence about him hosted the night. Unfortunately he has a bias for young, pretty girls, as well as the regulars, and I have witnessed many who don't fit into either category grow frustrated with him skipping over their requests. Whatever you do, do not harass him about where you are in the queue. It will guarantee an end to your karaoke days at the Legion. However, if you impress him with your skills you might score a free drink!
—Jenn Perutka
The Princeton
Where: the Princeton Pub, 1901 Powell Street
When: Sundays from 8:00 p.m.
Cost: free
On Jan. 21, I headed to the Princeton Pub with three loyal friends in tow, ready to experience karaoke in Hastings Sunrise. Resplendent with wooden tables and hockey jerseys, the Princeton translocates you to a small town affair along a railway track. The passing of trains in the night and the union logo on the wall welcome train hoppers and other characters from the neighbourhood.
An amazing cast of locals sat in ones and twos with their beers, slowly taking turns with the microphone, treating us to country hick numbers, sweeping Alice Cooper renditions and other oddities. Despite the desire to only stay for an hour or two, we got caught in a feeding frenzy of karaoke, as the warmth of the room and smiles in strangers' eyes invited the flutter of karaoke forms.
The song selection was decent, the beer wasn't costly and the wait to sing was short. Lyrics streamed across big screens, letting the peanut gallery sing along as karaoke regulars danced as kin. The talent wasn't mind-blowing nor intimidating and the sound system wasn't loud enough to cause pain. For those suffering from performance anxiety, the Princeton Pub is the perfect place to come out of the karaoke closet.
—Brenda Grunau
Pat's Pub
Where: Pat's Pub, 403 East Hastings
When: Tuesdays from 9:30 p.m.
Cost: free
Dave "the Beaver" Brooks has provided a memorable karaoke experience to Vancouver's willing and able amateur singers for years, offering a fun and relaxed night that caters equally to local pensioners from the adjacent Downtown Eastside and residents of nearby Strathcona. During my last visit, karaoke at Pat's Pub featured cheap highballs, free shooters to early arrivals, and a song selection of classics (mostly rock and pop) and new hits that appear to get updated on a regular basis. This makes the Beaver's night a great way to sit back and enjoy a few drinks with your friends while witnessing a ritual event that has been an important meeting ground for Vancouver's independent arts and music community for the better part of a decade. In my myriad experiences, singers typically ranged from incredibly talented elderly crooners to drunken and shy newcomers, but most graciously spared me the horrific irony of repetitive garbage like "Bohemian Rhapsody." Better yet, I've always found the friendly crowd at Pat's to be respectful and encouraging of anybody with the nerve to belt out a tune, but the bar is large enough that you could actually hope to blend into the woodwork, assuming that you just weren't up to singing on a particular night. With a unique host and historic venue to its credit, karaoke at Pat's has remained a very special night for me, regardless of how much time passes between visits.
—Racan Souiedan
Weekend Leisure
Where: the Astoria, 769 East Hastings (and various special events)
When: Mondays from 9:30 p.m.
Cost: Free
I went to the Weekend Leisure Karaoke New Year's Eve Eve Eve Eve Edition on Dec. 28, and was impressed with the large binders housing a wide selection of music. What's also super impressive about the night is that you have the option of searching through their offerings on their website and printing out song slips before going out to sing.
Members of Weekend Leisure (a collective made up of Christy Nyiri, Erich Gerl, Curtis Grahauer and Pietro Sammarco, who also create video art, comedy and more), broke the ice by singing a few songs, including Smashing Pumpkins' "Today," and "playing" the faux instruments left on stage for anyone who wanted to take their air guitar to the next level.
The night's patrons were quick to get their songs in, including Heart's "Barracuda" and Journey's "Don't Stop Believing," while yours truly sang Carly Simon's "You're So Vain."
Although there was a fair share of '70s powerpop on display, there were also a wide selection of '80s New Wave and hits from the '90s, including Next's "Too Close."
A fantastic karaoke experience, especially since people dance while you sing!
—Debby Reis