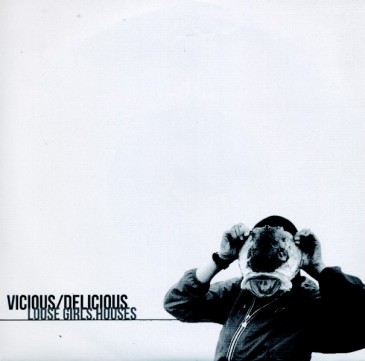 It feels like forever, vinyl lovers, but I have returned feeling fine and ready to shine—a light that is—on some new releases that have come my way in recent weeks. Starting us off are locals Shimmering Stars, with their seven-inch EP of embittered longing and wistful dreams of revenge. Wrapped in a cloak of hazy, echo-laden harmonies and downright gleeful guitar, it's hard to believe that singer Rory McClure wants to set this town on fire in "I'm Gonna Try," his thoughts of violence only quelled by the hope he'll win over a lost love. The '50s bubblegum-style balladry that propels this song—as well as the single's other three tracks—is a sure-fire, stick-in-the-brain-for-weeks formula that works wonders, but lyrically this song hits you where it hurts. The skipping syncopation of the line, "And despite my an-ti-path-y/I am longing to be someone better" is akin to the skipping of your own heartbeat at the sight of your sweetie in the arms of another. It takes you a second to figure it out, but by then it's too late. Rory continues his lament with the bleak, "I've lost my mind/I'm losing you/It's just as well." Damn, life sucks. Things don't seem to get any better for him on tracks "East Van Girls" or "Believe" either, but by the time the gloriously uplifting, Gilbert Becaud-by-way-of-the Everly Brothers number "Let It Be Me" rolls around, you can't help but feel a small victory for Rory and his crew. They may be down, but they're certainly not out. Don't wait another minute, get this now.
Much like Vancouver's uncanny ability to morph its musicians into myriad different projects, Montreal is also known for its shape-shifting talent pool. It's no surprise, then, that when members of Red Mass, the Peelies and Amanita Bloom get together as Vicious/Delicious, the results are spooky and spectacular. Both tracks off their recent release ("Loose Girls" b/w "Houses") balance the shoegaze-gloom of acts like Swervedriver and Spacemen 3 with the modern psych flourishes of the Warlocks and the Black Angels. Full of fuzzed-out guitar, dark and driving bass lines and an almost ghostly vocal delivery that suggests these guys are fans of Italian horror movies, the set recalls nights spent among the drug-fuelled basement parties of troubled youths. The collection creeps, slithers and slides into your mind and won't let go.
Down the 401 we go to Toronto, where two bands who share a side apiece crash headlong into each other, and the results aren't pretty. Maximum RNR are a little road-worn and weary on this latest slab of hellbent-for-glory, punk/metal posturing. Unfortunately we've heard this style before: a burly singer with four dangerous-looking dudes backing him up with Mwötorhead-meets-the-Mentors-inspired riffage. There's potential for greatness, but a song about a pretty-boy Scientologist ("Kill Tom Cruise") does them in before even getting to song two ("Welcome To Sodomy"). Perhaps this is my age showing here, but shouldn't these songs be sung by a bunch of teens? Seems like these guys have taken a step backward and put this muscle car in reverse. I've liked what these guys have done before, but this intellectually regressive outing pales greatly in comparison. Likewise, garage rockers Electric Blood give us three songs that should probably have stayed in park until the paint dried a little longer. Judging from what little I found out about them, it seems they've already hung up their biker boots and bandannas, so it's just as well. "Shoot Now," "Skin & Bones" and "Nothing's Free" are tales of drug-addled days and wasted-beyond-belief nights that musically don't quite catch the vibe being described. A valiant effort, but it doesn't get my motor runnin', if you catch my long-winded allegorical drift.
Finally, the Los Angeles-based originators of "Dirty Reggae," the Aggrolites, have just released a limited single featuring two tracks from their forthcoming full-length, Rugged Road paired with some exclusive b-side content. Recorded on reel-to-reel for a more vintage feel, "Dreaming On Erie" and "Trial And Error" will appear on the aforementioned record, due Feb. 22, and both are prime examples of their knack for melding old-school ska, soul and just enough punk grit to get the floor moving. The flipside features "Enemy Dub," an exercise in languid bass grooves, and the playful, carnival-organ-led "Eye Of Obarbas." Anyone who's hip to these cats undoubtedly knows that the proof has always been in the pudding in the Aggrolites' live show, and they'll showcase those traits when they take a detour off their current tour with Social Distortion to play Venue on Feb.10. To paraphrase an earlier Aggrolites track, "we're gonna have a wild time," for sure!
More next month. Stay tuned!