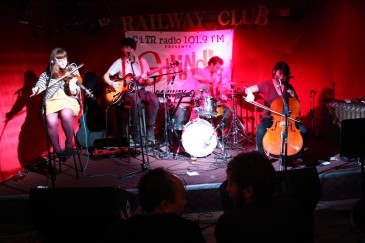 Despite the endless Vancouver monsoon, the turnout for Shindig's first semifinal was quite decent. First up were Aunts & Uncles. The double bass, violin and glockenspiel (yes, glockenspiel) give their music a playful, upbeat sound. Joe Hirabayashi's vocals were a little grating at times and will not be everyone's cup of tea (think Brian Molko), but apart from a few nerves, they played well. They reminded me of childhood dreams, light in the middle with a tinge of darkness creeping in. Three slices of fairy bread out of five.
Next up were Half Chinese. Before they even started they asked to have their guitar volume turned up. That really set the tone for their set. They started fast and played hard all the way through. For the most part the vocals were unintelligible, but it suits the music. Their guitar playing is really quite something to listen to Half Chinese are perfect at what they do. They get four white American Apparel deep V-necks outta five, as well as a berth in the upcoming finals.
Last to take the stage were the Living Deadbeats. They managed to play louder than Half Chinese and their stage presence was the strongest of the three bands. This could be put down to the Deadbeats actually looking like they enjoyed performing. The crowd had thinned out considerably by the time they got started, which was a shame as those who stayed were treated to a great show. Their songs were short, fast and loud and they really had a great time. Three and a half dirty pint glasses out of five for these guys.