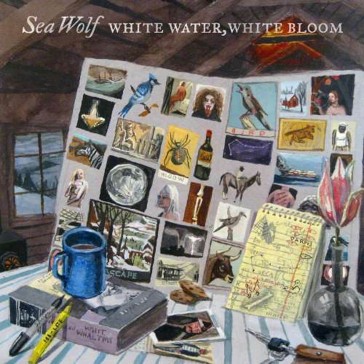 If you like Monsters of Folk and Bright Eyes, then here is a new band for you: Sea Wolf. Alex Brown Church began this band in his living room, and over the last four years they have grown steadily and are now touring the West Coast with their latest release White Water, White Bloom. The ten-track sophomore album was recorded in Omaha, adorning it with a mid-west grassroots folk sound, with extra musical instruments, including keyboard and cello. Sounding something a bit similar to the Arcade Fire, the album's sound is full and vibrant.
Even though Sea Wolf is another indie folk-rock band, they manage to stay afloat in the over crowded indie ocean because they sound amazing. With beautiful composition and lyrics full of heart and soul, Sea Wolf expresses human emotion intertwined with images of nature. Heart and soul is no exaggeration; Church wrote most of the songs on this album in winter in Montreal, where he met and fell in love with a girl while on tour with his previous band Irving. White Water, White Bloom is a great place to start catching onto their wave.
They will be hitting Vancouver on Feb. 7 at the Rickshaw Theatre, so be sure you don't miss them. Oh yeah, and for all you vampire fans, Sea Wolf contributed the song entitled "The Violet Hour" on Twilight: New Moon soundtrack. It goes: "In the dark you tell me of a flower / That only blooms in the violet hour." Go ahead and sink your teeth into that.