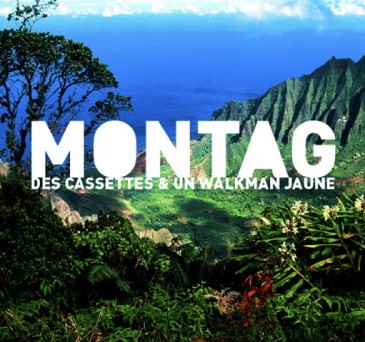 Montag is the name of Antoine Bédard's electronic music project. Operating out of Vancouver, he's released two albums since 2002, and remixed the work of artists like M83 and You Say Party! We Say Die!
With his latest offering, he's chosen to cover a few of his favourite songs. Blending a totally vibrant collection of instruments—whatever's called for, really—into a windblown, spacious-sounding set of pop songs, he inhabits the space of their origin while reimagining the means of their construction.
The selects are obscure and largely unknown, which is arguably part of the EP's raison d'être; to proclaim these songs' greatness to the unaware. As they are, it's an eclectic lineup. There's P.M. Dawn's psychedelic hip-hop hit "Set Adrift on Memory Bliss" from 1991, as well as a selection each from the Breeders, Unrest and Low.
There's also "Small Town Boy" by the Bronksi Beat. Gone are the sharply focused, clean keyboards and Jimmy Somerville's clear, angelic voice, replaced by this dusty, reverb-soaked groover that seamlessly weaves in bits of "Never Gonna Cry Again" by the Eurythmics. The latter's lyrics add a light of hope to the aloneness and rejection expressed by the former, and the two songs meld together in a surprisingly cohesive way.
Made up of nifty sampler beats, electric organs, synthesizers, drum machines and Bédard's own vocals, the sound of the EP is organic in a warm way; the sounds have at the same time a grit and smoothness that is pleasing to the ear, perhaps meant to sound like tape cassettes. The instruments work together as a hazy tapestry to convey a kind of melancholy—maybe that's nostalgia for all the time Antoine has spent with that yellow Walkman running. There's care in every note; you can really tell how much he loves these songs, how much they resonate with him.
This album can be downloaded for free at www.peppermillrecords.com/pm015