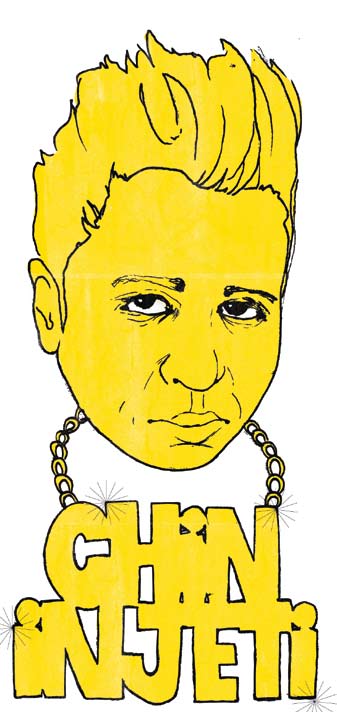 Chin Injeti is not shy. From terrorism to sex to post-colonial literature, the Vancouver-based producer/musician initiates candid conversation on topics that I, as an interviewer, would never dare to introduce. When asked for his reflections on the decade past—the '00s—Injeti responded, "It was the transition decade. 9-11 changed everything. Sex is not special anymore." Perhaps spending long hours in the studio with hip-hop artists like 50 Cent, Dr. Dre and Clipse (plus the rappers' lascivious fans) has coloured Injeti's view of contemporary sexual practice. The disillusionment is understandable, considering the number of times Injeti must have listened to Kanye boast, "Got head from a girl in Special Ed. / You know the pretty ones in that dumb class," while producing the new Clipse track, "Kinda Like a Big Deal." Whether in regards to romance, beats or artists, Injeti is always searching for something special.
The India-born, Toronto-raised producer/musician found that something special in a group he assembled for a studio writing project in 2007. Injeti handpicked a musically and geographically disparate trio of musicians to collaborate at his Vancouver studio. "I assembled everyone together because they're my friends," explained Injeti. The gathering proved talent and creativity to be qualities Injeti values in friends: the foursome later became a group, the New Royales. The genre-subverting band (alternative rock meets hip-hop, if I must) consists of the Los Angeles-based producer DJ Khalil and two Torontonians, striking vocalist Liz Rodrigues and vocalist/guitarist Erik Alcock.
"When I asked everyone to come here," said Injeti. "I just wanted to make art." If high-profile rappers are to be believed, Injeti is achieving his goal. While the New Royales have yet to release an album, Dr. Dre, Busta Rhymes and Slaughterhouse, among others, are vocal fans. "Dr. Dre loves our music. He was playing our stuff in every room at his studio," Injeti marvelled. "It was crazy." The group's potential is palpable in the few offerings found on MySpace. Injeti's production is both rich and clean: a radio-friendly production style evocative of Kanye West's. The breadth and diversity contained in the small sampling of available tracks reveals that the New Royales are still in the process of finding their musical identity. Clearly, the group has abundant, if diverse, talent. Should the New Royales settle on a signature sound and create a cohesive debut album, widespread commercial success is a distinct possibility.
The Top 40 potential of the New Royales is rather ironic. Injeti appears somewhat chagrined by his rapid success as a mainstream hip-hop producer. He recently chalked up his first #1 debut on iTunes with "Could've Been You," a 50 Cent single coproduced by DJ Khalil. The track features a slow-jamming R. Kelly, the man who may have single-handedly taken the special out of sex. [ed. Leanna clearly does not visit us during our R. Kelly love-ins a.k.a. production weekend.] "Could've Been You," has popular appeal, obviously, but is no great feat of musical achievement. Unlike 50 Cent, or most of the other mainstream hip-hop artists Injeti produces, he is capable of creating eminent and exceptional work. Quite simply, Injeti's talent outshines his talents'.
The complex relationship between producer and product emerged as the single matter Injeti shied away from discussing directly. Mainstream hip-hop has been good to Injeti. "This has been the most lucrative music year of my life," he said. Nevertheless, he criticizes the current state and direction of the profitable genre, stating, "It's been catering to club life, where women are at the top. It's all about sex, and women—I'm sorry—play themselves out. People used to write stories." Exactly where Injeti stands as producer of much of this kind of hip-hop is unclear. He does, however, explicate a divide between his personal tastes and commercial creations: "What I listen to and what I make for other people are two different things." For Injeti, the New Royales provide an opportunity to exercise and develop as an artist, and the possibility of redirecting a misguided genre. Injeti did, after all, assemble the group because he "just wanted to make art." Ironically, his art may well appear below his latest 50 Cent creation on the Top 40 charts. The difference is, of course, that it might also be something special.