I remember when I first encountered Evan Michael Sproat's work circa 2016. Being a transplanted prairie chicken myself, I thought it had made such a beautiful and queer parody of what it meant to be from the prairies. At this time he was showing work from his Tender Ego series during his undergraduate at Emily Carr. The subjects being portrayed in his sets and photos were soft pony-boys puppeteering (sometimes domineering) hand-crafted stuffed animals and slinging large, carefully smoothed wooden guns. These images were at once soft and rigid in their contrasting material and content. Through staged photographs and installations, Evan combined craft, bits of queer iconography and trope-y objects — such as 'truck nuts' — that made playful and pointed reference to prairie identities.
For Evan, his family's involvement in gendered crafts and trades have hugely informed his way of making. Many of the men in his family are practicing wood workers and the women seamstresses or knitters. Being surrounded by this kind of craftsmanship at a young age, he not only took interest in the processes but also drew from their aesthetics. Evan describes the fabrication aspect of his process as being "meditative and time intensive," an aspect that is pivotal to the outcome of the work. It is during these repetitive hand motions and gestures that he has time to contemplate the impulse behind the work, which is often a personal one.
When discussing this, Evan reasoned that his art is one way of making sense of himself, his identity, and his relationship to others. When it comes to sharing learned experiences, toys seem like a natural subject given their capacity to be used as educational tools. Through the history of toys as gendered and politically charged objects, Evan finds that there is much to critique and manipulate, but also to appropriate. When it comes to world-building and concept driven sculptural work, playful nature of the material he uses invites viewers into a plushy, make-believe world in order to then introduce deeper conversations surrounding vulnerability, deception and intimacy.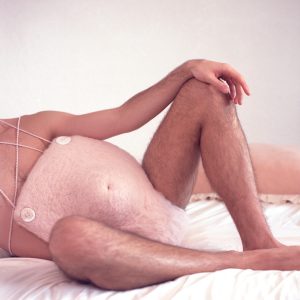 Currently on view at Access Gallery, Evan is part of a group exhibition titled Eat Your Tail curated by Chelsea Yuill. The exhibition includes a staged photo in which he is pictured wearing a forward facing yarn pony-tail wig, and is posed in a somewhat centaur-like stance. This is his depiction of the Trojan Horse, "a deceitful character that perhaps does more harm than he may realize." The work is titled "Anagnorisis he says!" which refers to the moment in a theatrical tragedy wherein the true nature of a character is revealed.
The choice to use the image of an animal such as a horse as the subject for a plush toy or costume has many levels of entry. For one thing, animals are not automatically gendered, a universality that Evan appreciates. Secondly, most animals come with a very specific set of preexisting references that lend well to the artist's conceptual intentions. His current series of work pulls from folklore and the Shakespearean trope of "the tragic hero." Though he has no specific background in dance or theatre, Evan spent a great deal of time in his childhood playing dress-up and make-believe — experiences that have obviously lent themselves to his practice today. 
While most of his work his work continues to include elements of performance — be it in staged photos wherein his body is the subject, a live enactment of a wearable work or simply the gestural movement that goes into making a piece — Evan still considers himself a sculptor first and foremost. Aside from depicting personal experiences, having control over the outcome of an image is important to his process. He tends to prefer the performative nature of staged photos over live events, as photographs automatically suggest a moment of manipulation and set, whereas live performance requires spontaneity and chance — two things that are in fact relatively counter to his process.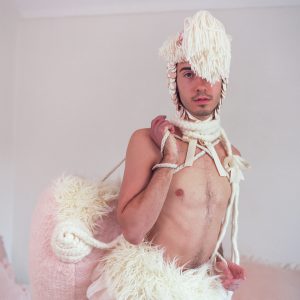 In terms of the choice to use his own body and sexuality as subjects, he states that it isn't his intention to go about making politically queer artwork. He is, however, queer and therefore his body is political and his artwork will inevitably contain queer subjectivity. Additionally, there is inherent bodily experience built into the wearable sculptures he makes, and as Evan suggests, "Just being able to envision how a material might feel is often the most direct way to communicate that principle." 
From cinderblock shoes to a fuzzy gag-like piece (which completes a moth character's raiment), the materials chosen tend to contrast significantly in weight and touch, resulting in apparent tactility. Often he uses his own body as a medium of pain or endurance — which effectively lends to the portrayal of discomfort as the intended pathos of the work. 
Approachability and audience is something to constantly evaluate, given the different venues of exhibition in which Evan's work takes part. Some of the pieces included in EAT YOUR TAIL were previously worn in the "Bazaar" category at last year's Kiki Vogue Ball. He sees the Vogue Ball as a venue of display that offers not only a fun challenge, but a safe space for experimentation. Within the runway context, he must conceive of  a wearable sculpture that will stand out within the outlandish "Bazaar" category yet provide the functionality necessary for his own safety. When I asked him how the work might change when it's displayed statically in the gallery rather than performed live, he simply stated that the works are also sculptures, therefore they are made with the dual intention of being able to stand alone in a gallery space. He also hopes the audience can make use of his absence as an opportunity to envision themselves in the work. It is through this, and the use of playful imagery, that Evan's work invites accessibility, fostering moments of empathy and learning.