When I meet Frogpile, drummer Luke Tancredi is in trouble. The band, composed of frontman Jordan Heaney, Luke's brother Brian on guitar, and bassist Bartek Danel, has converted his North Vancouver home into a slapshop recording studio. Microphones are wired in the stairwell for reverb, the dining room table has become the producer's desk, the fridge is full of important provisions (beer), and foam mattresses and tables have been overturned to form a cross between sound insulation and full-on barricade. Frogpile has taken over the house to record their newest record within the span of a single weekend.
And until this morning, Luke's parents weren't exactly aware their house had undergone a rock-n-roll renovation.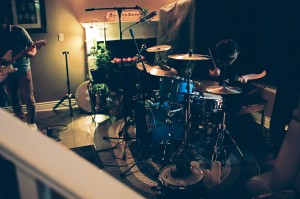 "I posted an Instagram of us — a picture or something," explains frontman Jordan Heaney with a laugh. "And I used the hashtag 'Partycrashers,' because that's the name of one of our songs. So his parents were convinced we were throwing a party. I think that scared them a little bit."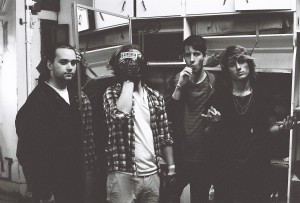 In a city where real estate is among the most expensive in the world, and pre-existing studios are often both expensive and restrictive, finding alternative recording space is practically a necessity. This little slice of punk paradise North Vancouver is almost a perfect metaphor for how Frogpile, and other Vancouver punks, have learned to thrive despite the challenges that face them. Rather than being walled off by a lack of options, Frogpile has created their own, adopting a looser and less constrictive structure to welcome as many artists, spaces, and audiences as possible. "I think the fact that [the music scene] in Vancouver is often unregulated opens it up to everyone to come and do what they want, says Heaney. "Within reason, of course."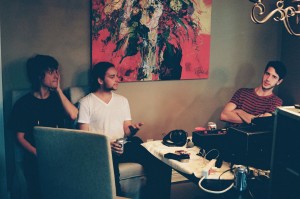 Musically, the formation of Frogpile also represents an evolution for the group, who have largely known each other since childhood. Having previously played under the name Empire, Heaney and bassist Brian Tancredi note the transformation in Frogpile's new work: "Frogpile, Empire, and all these names are just kind of 'logos' for the music," explains Brian. "We always had people just come in to record and perform with us who weren't necessarily members of the band. It's not so much the name, it's just producing music that we care about."
Frogpile draws from a mish-mash of rock influences that blend into a sound that's as dark and muddy as it it is bright and joyful. Strokes-esque rock number "Jackie" is complemented by a beautiful piano intro and a touch of violin, while the pop-punk jam "How Do You Do" incorporates guest vocals and a screeching guitar solo that sounds a bit like Green Day back when they were cool.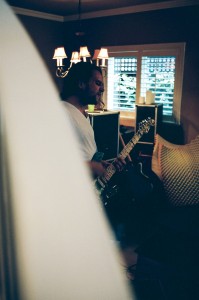 Vancouver isn't always an easy city to make music in. Despite an active scene and willing fans, bands are often pushed east by a combination of prices and strict restrictions, both on recording and concert spaces. Frogpile is one of many groups that has managed to thrive at home, bringing a looser, DIY-centered approach to both recording and playing.Their laid-back-yet-earnest energy on stage and in the studio translates into a sort of relaxed charm that resonates in every strum. Their production aesthetics are DIY to the bone without being shoddy. They're distinct but unpretentious, goofy without being severe, and have just the right amount of punk panache.
x
Discorder Magazine: What do your parents think about this setup?
Luke Tancredi: Mom, I'm sorry. Please don't get mad at me.
DM: They're not aware?
LT: Well, they do know now.
Jordan Heaney: I posted an Instagram of us — a picture or something. And his parents were like, well, as long as you don't have a party it's fine. The name of one of the songs is « Party Crashers « , so I think that scared them a little bit.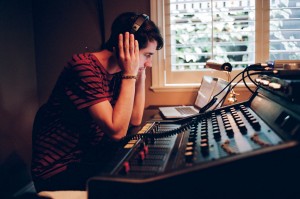 DM: How has the venue influenced the sound of the recording?
Brian Tancredi: We're definitely playing around with making the house make sounds as well. We have one mic that goes all the way up the stairs to give ambiance — the high ceilings are great for that kind of reverb. A lot of our favourite albums were recorded in houses — Ok Computer, a lot of Led Zeppelins' stuff, Blood Sugar Sex Magik…
LT: The setup was really easy. We really get that kind of fun energy on the record, you know?
JH: It's more fun. It's way vib-ier.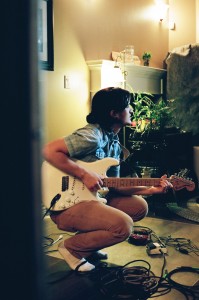 DM: How do the neighbours feel about it?
LT: We've talked to some of our closer neighbours, and they're cool with it. We cut the guitars off around dinnertime, and we've stacked plasma beds and shit along the walls — state of the art, right?
DM: It looks like you're barricading the site from an attack. A zombie apocalypse.
BT: You know that the U.S. Government actually has a plan in case of a zombie apocalypse? Like, an actual procedure to go through.
LT: I think in the case of a zombie apocalypse, Jordan would be the first to die.
BT: Bartek might be the last.
Bartek Danel: I have the Polish Mafia supporting me.
JH: You might be the last to die. I mean, you've been working out.
LT: Yeah, but I feel like I'd be like « Oh hey, there's food outside », and that would be the end.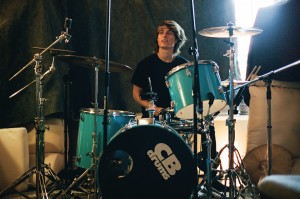 DM: What's the inspiration behind the EP you guys are recording? Jordan, how does it differ from the work done with Empire?
JH: It's a bit 'idk' Empire in that I'm still writing the majority of the songs, and then bringing them into the studio for everyone to work on it and shape it together. But it's different in that the people who shape this group are so different. We're all bringing our own backgrounds, musical and personal. These songs in general are a lot more polished. The dynamics are actually there. There are actual lows and highs. It's not just '10! 10! 10!.'
BD: Yeah, there's a '9' once and a while now.
BT: When we finish this there will be six tracks. Maybe six and a half. But among all those tracks, there's a diversity in sound that was never there with Empire. If you played some of our songs back to back, you might not even think it's the same band. When you compare "Jackie" and "Outrageous Contagious," they're so different.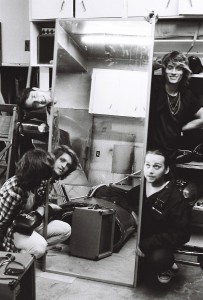 DM: Why six and a half tracks? What happened to the other half of track seven?
LT: "Outrageous Contagious" started out as a bit of an opening jam — I haven't seen it as a complete track. It's more of a pump up.
DM: I imagine that's great for live audiences.
BD: Previewing has been great. This album is really pretty much our live set, condemned into a record.
JH: This album, plus an EP that we released called Jackie. We also do some covers, whenever we have an idea to just throw out there.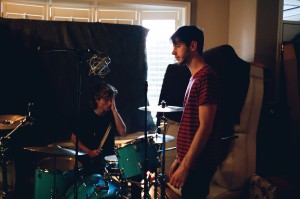 DM: Any favourites to cover?
LT: I love "I Wanna Be Sedated" by the Ramones, but it's so hard to properly do it justice and pull it off.
JH: There was one cover that we did that I thought was really fun — "Sleep now in the Fire" by Rage Against the Machine. People went fucking crazy. We played it over at Franklin Studios, where the stage is more or less a part of the crowd. And as soon as we started, the mosh pit actually rushed into us. Pedals got kicked around, our mic fell over. It was damn fun.
DM: It sounds like the scene is doing pretty well.
LT: I mean, we're kinda repping it from North Van. There's not much going out out here.
JH: There's not really a venue in North Van for hard or punk rock.
Mys: We used to play at a Rec Centre here.
JH: In Downtown Vancouver though, kids who come out just wanna party and mosh. Even when we play our slowest song, people are just joshing as hard as they possibly can.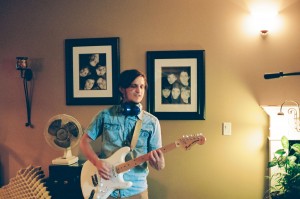 DM: What are your thoughts on the underground scene in Vancouver — the not-so-legal venues?
BD: The moderately illegal ones, in fact.
JH: I love it. I think the fact that it's unregulated opens it up to everyone to come and do what they want — within reason of course. They come for music, and they don't have to wait for the bouncer to let them in or whatever.
BD: And they definitely aren't paying like, $50 to see a show that starts late and where you get scalped if you want to buy a beer. I think we mostly just want people to come and have fun.
LT: If you compare Vancouver to cities like Montreal right now, it's clear our scene here is really struggling. But I think there's something happening.
BD: The thing right now is that all the bands that really start to make it move away. They make it big and then they move away.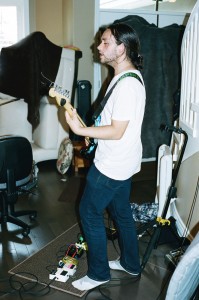 DM: Ahh yes, the classic Oh No! Yoko.
JH: Shoutout to Oh No! Yoko, wherever they are.
BT: I think Vancouver is just so restrictive in so many ways, again, even marooned to Montreal. You can't drink in the streets, you can't have live music. And so a lot of the frustration from that is being channeled into these underground venues, because you can't operate inside the legal lines.
DM: What's the first band name that you've ever played under?
BD: Frogpile.
JH: I swear I'm the only one in the band who likes the name. I was on tour with this band called Highland Eyeway, and we were walking down a road and decided to close our eyes and walk freely in a forest. It was super stupid, and of course we fell over. We came up with this really, really good band name — and I completely forgot it. So I decided, well, I've always liked frogs. Frogpile is good enough.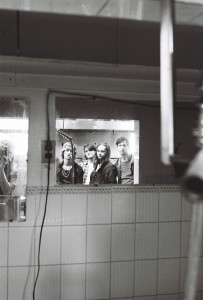 DM: If you ever remember the name, will you change it?
LT: Honestly, whatever it is is probably worse than Frogpile….It's not so much the name, it's just producing music that we care about.
DM: What's next for Frogpile?
JH: We're going on tour August 12 — Kamloops, Kelowna, Nelson, hopefully!
X
Check out frogpile.bandcamp.com for more.