TRS showcases unapologetic vulnerability through her lyrics, which  are translated through graceful vocal arrangements. For the Vancouver-based singer and songwriter, music is a form of self-expression. When I first found her music, I felt a juxtaposition  — while the topics and lyricism were more intense, it was difficult to not focus on the the bright and fluttery sounds, her vocal arrangements reshaping my mood and listening experience. TRS discusses the importance of music as a feeling, and resonating with music through emotion.
I could see this from their excitement throughout our conversation about how music can translate specific emotions — ones that words alone can't. TRS has been releasing original songs for the past 5 years. Her most recent single, "leave it alone" (2022) uses ambient piano patterns which hug her melodies as if they are pausing time as her lyricism paints a plea to let go of love. She sings, "it'd be easier to hate you, if you did me wrong/left me no choice, but I can't seem to shake you" in a soft tone, the sonic atmosphere holding space for her vocal layers. 
When I asked TRS to describe her music there were two words that stood out to me in  particular, "vulnerable" and "warm." The word "vulnerable" because of her use of  storytelling and poetic imagery which makes each song intentional and relevant within the confusing realm of navigating our own, and other's, emotions. The word "warm" stood out to me as a fitting way to describe her voice. These are, consequently,  also the two words I would use to describe the following conversation I had with TRS.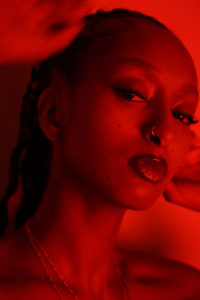 What brought you to music? When or why did you start making music? 
This is always a hard question to answer because I feel like I was born with music. My mom says that I was always  singing  as a toddler. It became a way of expressing myself. How I remember music coming into my life goes as far back as writing stories and poetry as a kid, [in school we] had paper over our desks and I would just write song lyrics all over  them. I started  releasing things on SoundCloud under my name Trsit in 2019, then under TRS in 2020. TRS became sort of a nickname and I liked the idea of having an artist name. 
How would you describe your style and sound? Streaming services will categorize people into short genres, or let you categorize yourself, which does not always encapsulate the sounds a song can bring. Do you feel like your sound has evolved or changed over  the years? 
I don't think the type of music I've wanted to make has changed because I gravitate towards music that makes me feel something. I think that's because music was how I was able to express  myself — it was always something I turned to when I needed support. So it served as  therapy for me, and it still does. 
Are you able to talk about the music and artists you enjoy?"
I like a lot of different music, but I love music with soul. When I say that I mean anything with genuine feeling that you can hear comes from a real place. Neo-soul is my comfort music. I really love Lauryn Hill, Erykah Badu, D'Angelo, Angie Stone, India.Arie, Raphael Saadiq. I also grew up around a lot of Ethiopian Jazz and church hymns, so other sounds like jazz and funk inform my style as well. I feel like I'll go down a rabbit hole if I continue  to talk about the types of music I like.
I am here for it! That's why I love this question, it's pretty loaded but it gets people excited. Sometimes there is a core memory of being introduced to an artist and that moment becoming a specific reason for the urge to decide to create. Are there any  moments that come to mind? 
I have quite a few moments like that. One was when I saw Tinashe's on youtube recording mixtapes where she was doing everything from recording, writing and production by herself in her room. That was the first time I actually got to see a woman produce and I was blown away. That made me want to embark on that and it's  always been a goal of mine to get to a point where I can do the whole thing myself.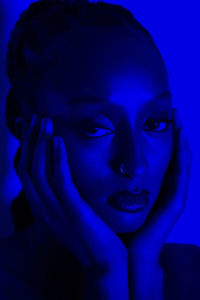 How do you think being in Vancouver impacts your creative process? 
I guess I don't have a reference point because I've been here my whole  life. But lately I've been able to place myself in positions to connect with  people who make music here, which has been really good for the soul. I feel like when  creative people have opportunities' to meet, there is an energy that is unmatched.
I agree, there are new opportunities coming about in Vancouver that give artists a chance to become more connected on their own terms. 
 I feel like more under-represented groups are slowly coming more to  the forefront of music. It makes me excited and I'm starting to believe that we have a  chance to take matters into our own hands. When this happens, people can create space for themselves. I know it can be discouraging that  there isn't necessarily the typical idea of a music industry here. But it can also be a blessing because it's in our hands to shape whatever Vancouver's music scene can look  like. It's up to us to build and decide what Vancouver becomes. We have the paint brush in our hands. 
That is a very optimistic view, thank you for that. Since you've always been in  Vancouver, how do you think identity has impacted your music?
I write from a place that comes from my own experiences, so [my music] is inherently shaped by my perspective. Being Black and Queer in Vancouver I think I've always felt underrepresented — especially growing up — not as much now. I'm not sure it directly informs certain elements but that's just one lens through which my music is created.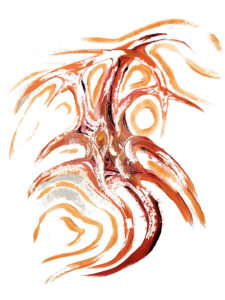 Do you have a favourite lyric? Or even a favourite song? 
One of my personal favourites is a song that's only on soundcloud called,  "Fool." But another song that has been my anchor lately is an unreleased track called "Shadow  Phase." My favourite lyrics are from the chorus — "Just a shadow phase/ Still steady in my  orbit/ Even when it feels miles away and don't know what the course is/ Dwelling in the yesterday/ Anxious for the morning/ Even if i go the other way/ Only place I'm supposed  to be is right here/ Getting where I'm supposed to be from right here." Another one of my favourites is Mars which comes out in a couple months."
Do you have a live performance that was your favourite or most memorable? 
Probably my first performance, which was at Fortune Sound Club. I only had one song out on streaming platforms and I was like a deer in headlights — but it was so fun. Also, my first time performing with a live band at Railway Cafe was ground-breaking because I was able to hear my music live through actual instruments. It made me very emotional, because [instruments] have a quality that can't be replicated.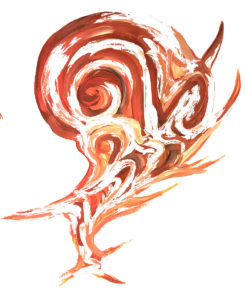 What are some goals for the future of your music? 
I would love to do a COLORS performance or Tiny Desk.
Yes!!! I can't wait for all this to happen. What's next for you? 
Well, I have an EP coming out, some of the songs are already out but I'm really excited for it and to perform songs live with a band. I'm really excited! 
As the conversation comes to an end, I thank her for taking the time to speak to me because TRS has been very busy. On top of releasing her new single "Leave it Alone," she has performed at the Safe and Sound Festival as well as Vancouver's first annual Juneteenth festival. I also thank her for her optimistic perspective, both on shaping communities and on representation of new artists within Vancouver.