Omar Apollo came about the scene in a fashion that continues to be widely attempted but is rarely successful. He's an important piece of one of the first generations of this type of bedroom pop artist that merges layered vocals over automated drum tracks with an X-factor of sorts that separates them from the pack of other Soundcloud-originated musicians — think artists like Still Woozy, Dominic Fike, or Elujay. For Apollo, what makes him special is his charisma in live performances and sensational voice that switches between English and Spanish within the very same songs.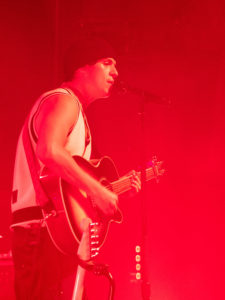 Vancouver appeared as the second show of Apollo's North American tour which would see the 25-year-old perform in over 30 cities with support from Deb Never, who was raised just across the border in Seattle and Spokane. Deb Never took the stage to an overtly present crowd for an opening band and they really held up. As someone who had not heard Deb Never's music before going into the evening, I left impressed with a desire to check out their work on a streaming platform at home. 
The Commodore Ballroom is, I would argue, Vancouver's best high-end, mid-sized venue. For touring artists that can't quite fill the Rogers Arenas or Pacific Coliseums of the city, the Commodore fits almost 1000 comfortably. By the time Apollo strutted onto the stage, it certainly seemed that most of those 1000 converged toward the front of the stage for the opening track "Kickback" from his 2019 project, Friends. The tour was in support of Apollo's debut full-length Ivory and he did not disappoint new or old fans, as a nice medium of half the set was new tracks and the other half filled with older favourites. Ivory arrives as Apollo's most mature and well produced album to date with features such as Daniel Caesar and Kali Uchis, who was slated to perform the next night with Tyler, the Creator. Thissparked conversation on whether or not she would be in attendance and perhaps an appearance on their song "Bad Life" if she had already arrived in Vancouver, which proved to not be the case.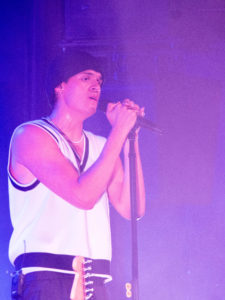 Apollo's stage presence is one of the highlights of his live performances as he genuinely seems like he is at his zenith when playing on the big stage. Despite the bedroom pop roots of a good chunk of Apollo's discography, he played with a full live band which elevated the performance. This was further complimented by a couple songs done with just Apollo and his guitar. Among a slew of bouquets being tossed toward the Mexican-American star, one fan passed him a Canadian cowboy hat which he sported for the entire next song — an homage to Apollo's first Canadian show in almost two years.