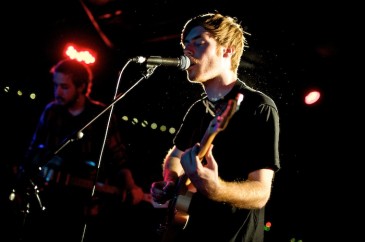 Bored Games
Co-headliners Abe Vigoda were unfortunately denied at the border, forcing locals Bummer High to fill in at the last minute. Compared to their last gluttonous performance at the Biltmore less than a week before at the Rock 'n' Roll Pizza Party, the garage band sounded out of place and uninspired. All I could think about was that I wasn't getting proper nourishment from the Pabst in my hand, and there is nothing wrong with that.
Post-punk revivalists Cosmetics, are a local outfit getting international attention, having signed with hype label Captured Tracks from Brooklyn, NY. Their seven-inch Soft Skin birthed icy femme vocals and thick synth melodies, emitting a dense harmonic sound cloud. Sensual is the word that best describes the music. But even though I can appreciate the Italo-disco whispers in a live setting, their performance basically sounded exactly like their seven-inch.
Thankfully, Wild Nothing were better than the opening acts. The quartet, who looked real polite with their combed hair and close-knit collared shirts, were a nice breather from the previously sinister vibe of Bummer High and Cosmetics. Rich, gauzy keyboard lines sparkled in the room, while tracks like "Summer Holiday" and "Golden Haze" captured the sun-bleached vocals that characterize Wild Nothing's sound. The night felt like it was tied together with pastel shades that arced over a shimmering swimming pool. "Confirmation" was another track that captured the dreamy C-86 sound while also taking cues from The Cure and The Smiths. "Vultures Like Lovers," however, spun feedback and delay that molded the melancholy and disparate tones akin to Panda Bear or Catwalk.
Found somewhere between bedroom-pop and stadium-glow, Wild Nothing's sharp hooks and guitar fade-ins coiled together infectiously. The whole night was this sort of blanket of sound.