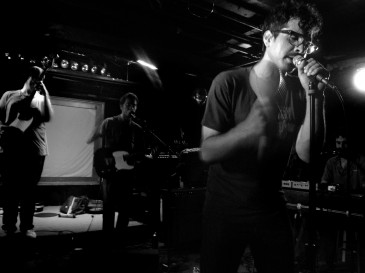 If you dig indie-folk with a distinctive rap infused element with an exuberant punch of stage presence, then you know why you came to this show. This Cincinnati band were back in Vancouver and also playing this gig were San Diego's the Donkeys and the solo project of Why? drummer, Josiah Wolf.
As a solo artist, Josiah Wolf shies away from his usual position of drummer and assumes the role of guitarist. His melodies were simple and had an attractive quality to them however his voice was nothing too special; his female bassist outshone him. As the audience heard too much of his music, his covers got the most response, especially his brilliant rendition of Bill Withers' classic "Ain't No Sunshine," with Wolf's superb interpretation on guitar and his bassist's gorgeous vocals.
Next up was the Donkeys and the refreshing thing to see was that the drummer was the singer, which is uncommon. They play easy-going California rock, with a few harmonies thrown in for good measure. As the guitarist had an abundance of energy to focus on his riffs, the technical skill he had was obvious. However, the crowd were just waiting for the main act and this simple rock group didn't have too much impact.
Finally we were rewarded for our wait, Why? came on stage with their usual ardour and passion. These indie folksters were back with their latest album, Eskimo Snow and they were here to reestablish themselves. Fronting them is the brilliant Yoni Wolf, and right away we could tell he was the driving force behind the band. His style, of switching between rapping and singing, and his tremendous energy was awesome to watch. The crowd soon got absorbed in the rhythms of his lyrics. However, we were brought back to the realization that the band is a vital part of this sound, as the guitar solos and drum beats are the core of this unusual style. Their beat box skits are an extra treat to the live performances and the powerful stage presence of Yoni Wolf is definitely worth seeing.