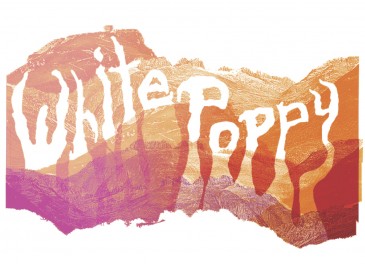 This Saturday night was a busy one. I hung out in a room, an art space, and a music area. I discussed songs, and examined a collage. I met the creative mind behind White Poppy in her East Van basement suite, the address that hosted all the above.
Crystal Dorval is proof that art is fluid. She crafts visual art in the same room where she writes music and jams with her boyfriend and bassist Ian Kinakin. Her latest project, White Poppy, has bloomed in this particular context, where two desks sit against adjacent walls and an aging blue suitcase pours out looping pedals onto the floor. In this room an artistic surge could mean a grab for scissors or a reach for a guitar.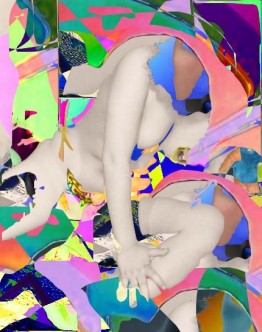 "I was an artist before I was a musician," Dorval explains as we look at her recently sold-out cassette, I Had a Dream. The cover art is a digital collage of Dorval's own design. Such multi-media avenues have held her attention in recent days and besides working on collages with found Internet objects, she has also been exploring video making. With two completed music videos under her belt already, including one for the album's title track, she confesses happily, "I just want to make music videos for all my friends' bands right now."



For Dorval, making art is a malleable exercise. Much of her visual work, like the cassette's collage, appears as layered and ambient as her songs. "I notice that now when I'm working on a video for one of my songs or making art specifically for the music, I'm thinking about all of them together and how they all fit." Whether transparent as a riff, solid as a picture, or flowing like a video, Dorval conducts all elements of her art confidently.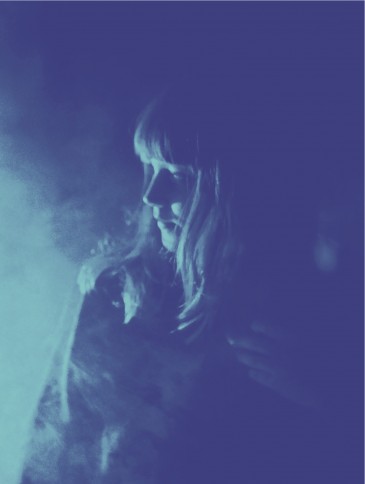 White Poppy is her most powerful demonstration of this creativity. Though Dorval's musical career began several years ago with her Victoria-based band Vincat, she has since moved away from such collaborative projects. She admits, "My main projects usually start from writing and recording at home." Her most recent pop band, My Friend Wallis, is a perfect example. It was an independent project with various members participating intermittently. In fact, she sees My Friend Wallis as the beginning of an evolution where, "White Poppy is just the next step."
Inspired by world music, Krautrock and "really good pop melodies," White Poppy's first eight-song album is a collection of hazy tribal jams where Dorval complicates traditional ambient sound. Already described on the influential music blog, Gorilla vs. Bear, as being a "slightly poppier Grouper," White Poppy takes rhythmic loops and drenches them in waves of drone and airy vocals. The result is a well-defined and consistent beat coexisting with soft and edgeless ambiance.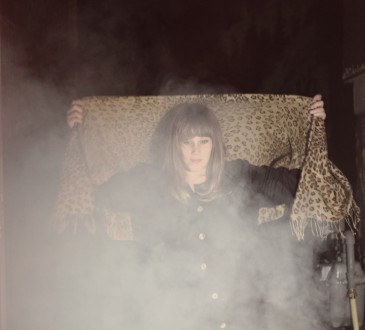 Her lyrics add purposeful dimension to this haze. Although hard to understand, they bring narrative personality to White Poppy's sound. Dorval explains, "I want my lyrics to be heard but I don't like when they're heard in the context of the song." Although she spends considerable time writing them, Dorval likes the way they sound best when they're "slightly layered under everything." That everything being drone.
As drone has gained popularity in the city, Dorval has found herself participating in somewhat of a trend. In the presence of local bands like Waters, the Passenger, and Hierarchies, it seems natural to pause and glance back on this movement for a moment. Dorval considers possible sources of influence and decides, "My ventures into drone music were more from just playing at home, just having my pedals and playing around with them." It was only after she showed someone what she was working on that it was realized as drone. "Then I realized what I was doing was something already. I thought I was just playing around with pedals."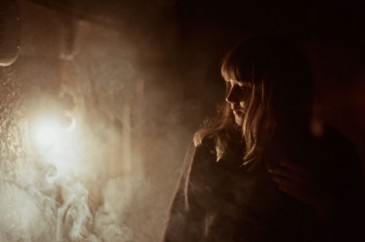 And the minimalist, unmoving harmonies of drone fit perfectly with both Dorval's creativity and with her new distribution label, Not Not Fun Records. Although intimidated, Dorval emailed the L.A.-based company months ago and was both delighted and surprised to receive a welcoming response. It meant that I Had a Dream was the first in her career she didn't have to arrange herself. She smiles, "It was pretty cool to see that materialize."
Contending highlights are her set at Sled Island earlier this year, where she was greeted by rain-soaked fans who had biked through the city for her show. Considering White Poppy's young life and the enormous list of bands playing in the festival, Dorval knew how to spot a compliment. And with upcoming shows at the Waldorf on September 26, her seven-inch release at the Astoria on October 6, and a full-length release slated for late 2012 or early 2013, Dorval's most valued memories may have yet to bud.