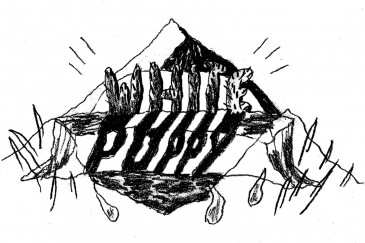 I'm sitting across from Crystal Dorval underneath a tree at Templeton Park. Not far from both our homes in Hastings-Sunrise, the final burst of summer heat and clear skies make the park an idyllic spot to meet. As kids play baseball in the field behind us and float planes fly overhead, we talk about depression, drone fuzz, and music as medicine. The topics may seem sporadic, but it fits Dorval's project, White Poppy, to a tee.
White Poppy is the unlikely pairing of lo-fi shoegaze and dream-pop, blending dirty analog drum machines and layer upon layer of undulating, reverb-laden space guitar riffs. Dorval's soothing, blanketed vocals drift over top of each vaguely tropical track like phantom waves, with lyrics barely distinguishable amid the oceanic haze. Born out of the ashes of Dorval's Victoria-based band My Friend Wallace, White Poppy's evolution eventually led to Drifter's Gold. The EP, released by Constellation Tatsu, brought Dorval's pet project into the limelight, but her new self-titled full-length is a much more sombre affair.




"[The LP] comes from a dark place," says Dorval of the recording process. "I've always been one to make happier music when I'm feeling sad. From my perspective, it absolutely feels like a treatment. It's what I go and do if I'm stressed out or in a bad space. I was going through some mental health stuff, and I think that comes across very literally… but I feel like I found clarity through [recording] it." With song titles like "Emotional Intelligence" and "Existential Angst", it's hard not to approach her record — which is otherwise serene and calming — with a certain preconception. It's Dorval's hope that the medicinal properties of White Poppy extend beyond her own self, and with sounds like the opening synth riff on "Skygaze" it's hard to imagine it not having a calming effect on listeners.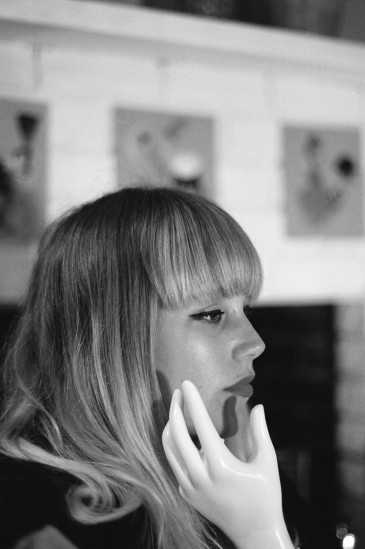 White Poppy's cover is a haze of overlaid images, a picture of Dorval herself double-exposed over a collage of Grecian ruins. The cover, which Dorval designed, was originally set to be much more sparse. "Originally, I wanted just that collage to be the cover," Dorval explains meekly, "but a friend strongly encouraged me to put my face there, too."



Besides her work on White Poppy's cover art, Dorval's work as a visual artist extends further back than her music career. "Ever since I was a kid I'd make art. Music took over my life as a teen, but art has always been there in the background. Both mediums distract me in the same way, they take me out of my mind and let me focus on the present. If you're a multidisciplinary artist, all of your [output] will have a similar overall theme, because it's from your own perspective. Creativity is just your personality coming out in a physical way — and whether it's writing or decorating your house or cooking food, it's going to be uniquely you."
It's true, Dorval's visual art very closely resembles White Poppy's audible psychedelic haze. Her work, which previously went towards music videos for songs from Drifter's Gold, is a mash of abstract art, '90s VCR static, and swirling colours. "People ask me why my music is so textured, and why so many layers are hidden and warped, but I don't consciously do that. It's the same way with my art, it's just what I prefer. My ears want something to sound a certain way, my eye wants an image to look a certain way. I just do whatever I can to make them happy. It doesn't make sense to me, but I have a very methodical way of arranging shape and colours and sounds."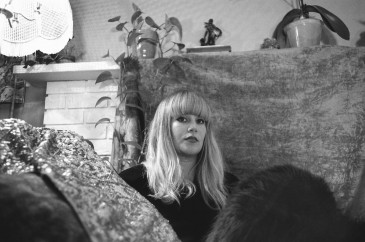 The sounds of White Poppy are obviously accomplished through the use of heavy effects and processing — a technique that has garnered her big nods from the drone and ambient communities. But Dorval insists that she isn't reliant on technology to accomplish "what her ear wants." "I think I would find other ways to express the sounds that are in my head if the pedals weren't there, but it might take longer. I'm really drawn to the quality of older recordings — on older, sometimes crappier, gear. Trying to replicate something now that, then, was just the best it could be… it's funny trying! The idea of recording a high-fidelity album doesn't appeal to me at all. I liked all the happy accidents that I experienced while recording."
Despite of, or perhaps because of, her affinity for that particular aesthetic, White Poppy has never set foot in a studio. Her debut LP was recorded at home, on a 4-track, over the span of many months.
"What would be ideal," Dorval laughs, "would be if I had a friend who had a year free and wanted to record me. We'd spend all our time in a cabin hanging out, and whenever I had something I wanted to record they'd be right there to help out." With so many tidal layers of guitars, synths, drum machine blips, and vocal crooning, each record only comes with time and patience.
Our daydreaming of personal studio engineer slaves is interrupted by a little girl, fresh out of the Templeton Pool, and her mother, who come over to admire Dorval's bike. With little charms of neon-coloured moons, lightning bolts and sun rays adorning the spokes, her wheels definitely scream "envy of 4-year-olds everywhere." It's the perfect ending to a relaxing interview under the sun, and as the little girl bids us farewell with one last longing gaze at Dorval's bike, so too do we part ways. I was once told that ambient music was "most definitely not for the summer — it's winter music", but I can't think of a more perfect way to enjoy White Poppy than underneath this big tree as the September sun starts to dip.