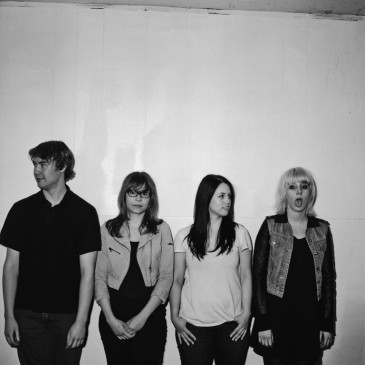 Like Dad
Amid a sea of insipid young rock bands, local punks White Lung are hoisting a Jolly Roger for dark and exciting music. Between Mish Way's razor-sharp vocals, Anne-Marie Vassiliou's whip-crack drumming, Grady MacIntosh's rumbling bass and Kenny McCorkell's doom-and-gloom guitar, the band has distinguished themselves as a noteworthy act, especially live.
At last month's "Rock 'n' Relief" concert at Venue, Way stalked around the stage in circles like a caged animal while yowling and snarling, her moodiness epitomizing the energy of flare-ups like the gooey-guitared head-banger "Atlanta" and the alarm-ringing clamour of "Wild Failure."
Their viciously solid sound is confrontational and commanding, eschewing the hipster frivolity of so many of today's fledgling bands for a refreshing approach of sincerity.
"Music feels so good, it's become an obsession," Way says in a husky voice that's remarkably similar to her heroine, Courtney Love. "It's become something that's so special and sacred and mine."
Way has a high-boned, almost classical face—her heavy-lidded, smoke-blue eyes adding to its painterly quality. Her Cherie Currie haircut shines like an aureole in the light outside Goody's Warehouse when Discorder caught up with her.
Though she's now both an established musician and music journalist, Way didn't actually fall in love with rock 'n' roll until the age of 17, when she "figured out what [she] liked": invigorating alt-rock with a punk edge and a feminist twist.
"In high school, I met this girl and she introduced me to Bikini Kill," she says, "that changed everything. It provoked me to discover more and then I discovered feminism, and I was like, 'Wow, everything that I've ever thought in my life that people have told me was fucked up, wrong or stupid has now been given validity.'"
Inspired by artists like Hole, Van Morrison and the Replacements, Way began strumming on the guitar, all the while discovering more and more punk bands that seemed to reflect herself so unexpectedly—like finding a collection of forgotten heirlooms in the family attic one by one.
"There's just something about punk, and it's hard to explain to people who are like, 'Ugh, that's terrible,' but it's not about technicality," she says. "It's just so incredibly present and raw."
The best track to manifest this raw presence on White Lung's 2010 full-length debut It's the Evil, is the screechy, stirringly urgent "Sleep Creep." With its piercing, agitated riffs, quick, relentless rhythm and tinny, haunting howls, it's a catchy theme song for the dead of night, an exercise in powerful simplicity and an intriguing gem for the punk aficionado.
Growing up in the sheltered suburbia of North Vancouver, Way would get "unnecessarily angry," and, like any ticking time bomb, she needed an outlet to express her rage.
"I needed to start a band," she says. "I've always been a bit of a performer."
"I was so vain as a child," Way continues. "There are pictures of me sitting in front of the mirror, shaking my head, and looking at myself and my hair shaking for, literally, hours. What a piece of shit child I was!"
After graduating from Simon Fraser University with a degree in Women's Studies and Communications, Way formed White Lung in 2006.
Bassist MacIntosh and original guitarist Natasha Reich were recruited through friends while Way met drummer Vassiliou at a shared jam space. When McCorkell took over guitar after Reich's departure, the decision was met with controversy within the local feminist scene.
"Everyone was like, 'You got to get a girl, you can't get a guy to replace Natasha,' and I said, 'Well, that would be just as sexist,"" explains Way. "Sometimes all-girl bands don't work and that's okay."
In fact, despite the critics, McCorkell's working wonders as White Lung's resident axe-wielder. "Aristocrat," White Lung's contribution to a recently released split seven-inch with current tour buddies Nü Sensae, finds McCorkell's guitar work overflowing with versatility, ranging from electrifying, spidery picking to manic, fuse-blowing shredding.The tune's made all the more rousing with its beefed-up production and Way's Dave Vanian-like hollering. Now that the foursome's symbiosis is as strong as ever, it's hard to imagine the band without him.
Just as Way refuses to be stifled by the still-dominant patriarchy in music, she continues to face her number one obstacle head-on: the fact that musicians "don't make any fucking money."
According to Way, penniless panic attacks inevitably await White Lung on their on-going cross country tour, but the summer is sure to be a blast anyways.
"Playing music is the best thing in the world," she affirms.
And the world is calling.
While White Lung is presently on the prowl for fresh fans across the border, the band has already caused some buzz across the pond. As Way reminisces, while visiting London a couple of years ago, she walked into a Rough Trade Records store to find a White Lung poster on the wall. Success couldn't taste sweeter.
"I got too excited about it—I felt like such a dork," she says. "Some days I want to say that I don't want to do this anymore. But, you know, you only get to do this once."
[Note: This feature ran in print with an incorrect byline. Our apologies to the writer, Vivian Pencz.]