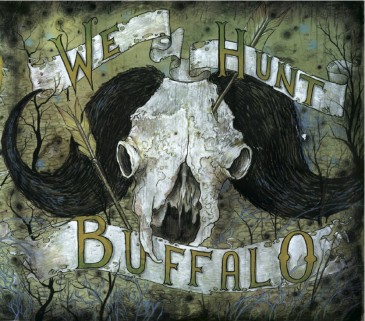 They have alleged, since the name of their band has ruffled some feathers (or is that fur?), that what they are referring to by "Buffalo" is not the endangered majestic beast of the plains, but rock music itself, which is a majestic beast in its own right.
It is a metaphor about seeking out genuine, honest rock music in a landscape populated by superficial, commercial auto-tuned garbage, and the debut LP from these Vancouver boys is an invitation to the listener to join in on their hunting trip.

The odyssey begins with the hard-core break-down driven, "Strange Sensation," where vocalist Ryan Forsythe wails out a story about hallucinogenic experimentation. Carrying on through meditations of self on "The Search," an instrumental, and a King Crimson cover, the album keeps a steady pace right to the frantic shred fest of "Harry Barry" that concludes the record.
The songs on this album are all delivered in the same fuzzy stoner rock style, though the trio definitely bring their own individuality to the sound. In a genre that can get fairly muddy from being almost entirely comprised of reworked Black Sabbath songs, We Hunt Buffalo float on a lighter end of the spectrum, shying away from the doom and sludge elements that can creep into stoner rock.
Rather than focusing on the occult or science fiction, leaving listeners in a droning, baked reverberation, they write about what is around them and lean musically closer to a psychedelic jam band. The use of the saxophone especially brings up memories of early '70s art-rockers, Audience, and We Hunt Buffalo's cover of King Crimson's "Twenty First Century Schizoid Man," which has also been covered by April Wine and Swedish death metallers Entombed, heavily features the baritone sax, branding the song with a unique sound that helps it stand out from these previous versions. At other times, they are reminiscent of more contemporary sounds, like on "Someone Other," where the boys ride a Queens of the Stone Age vibe.
The album's thesis statement may be "Digital Reich," which criticises the music that they see as having endangered rock'n'roll. Though with bands like We Hunt Buffalo around, it seems rock'n'roll is just fine.