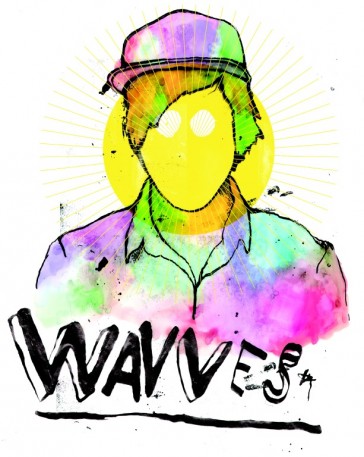 While the majority of twenty-four-year-olds fall under the categories of unsure students and entry level employees, Nathan Williams is embracing a delayed adolescence: drinking, partying and sporting a hairstyle with short sides and a dominant lock of hair flowing down the front of his face, the combination of a mop and a mohawk. If you were to see it, you'd understand However, the difference between Williams and other glossy-eyed slackers is that he is also touring the world with his band Wavves, who have already generated a large devoted following.
Wavves has also accumulated a substantial amount of gossip concerning incidents between Williams and former drummer Ryan Ulsh, and additional drama concerning the relationship between Williams and a member of the Black Lips. We as music aficionados should not be interested in the stories, but interested in the music, which is what this will primarily be about.
I caught up with Williams, and his band mates, Stephen Pope and Billy Hayes, over the phone the day before their show at the Biltmore for a quick, but very entertaining conversation. They were sitting in the greenroom of Neumo's in Seattle, Washington, waiting for the beer to arrive. Williams was in a playful demeanor and as far as I can tell, he is just your ordinary 24-year-old California burner, with an extraordinary job.
For Wavves, right now is a time of musical growth, having grown from a d.i.y. solo project of Williams' to a full trio. After meeting Pope and Hayes, the late Jay Reatard's backing musicians, in San Diego Williams started a friendship with them that eventually led to something more. "We talked about playing together someday, but at the time they were with Jay," said Williams. Shortly after a split from Reatard in October 2009, Pope and Hayes joined Wavves as the rhythm section. This essence of musical growth is signified in the sharing of songwriting on the third album. While Williams wrote all of the songs on his first two albums, King of the Beach features two songs by Hayes ("Convertible Balloon" and "Baby Say Goodbye") and one song by Pope ("Linus Spacehead")
In addition to artistic growth, King of the Beach is an improvement in sound quality. Having recorded Wavves and Wavvves in his bedroom, Williams earlier work has much more of a lo-fi sound, while King of the Beach's studio sound brings along a clearer presence in their music. The improvements in quality can be partially attributed to veteran producer Dennis Herring, the man behind Modest Mouse's Good News for People Who Love Bad News and We Were Dead Before the Ship Sank, as well as the Hives' The Black and White Album. Herring placed the boys on an actual recording schedule that was weird at first for Williams, but still provided a happy medium between making music, and sneaking off into the bushes for some herbal therapy. The result was a polished anthem of hazy summer days filled with energetic sounds coming from Williams '65 Fender Mustang.
Before the set release date, King of the Beach was leaked on to the net, which led to a mutual decision by both the band and their label Fat Possum, to stream the album in its entirety on the Fat Possum website. "The album had already been leaked, so we said 'Why not?'" Giving fans official free access to an album is a surefire way of establishing strong relations with fans, especially at a time when artists rely more heavily on touring and audience turnouts.
Their shows are a blend of high energy, mosh pits and copious amounts of sweet sexy skunky sweat. Their show at the Biltmore was the same, after arriving on stage fashionably late, Williams, Pope and Hayes laid into the crowd with a non-stop barrage of fuzzy noise pop.
In between playing touring and recording, Williams and his friends still find time to unwind. Whether it's playing video games (he's been playing a lot of FIFA '10, but Metal Slug 4 and 5 are among his favourites), smoking weed or listening to other artists' work (Curren$y, Small Black and Abe Vigoda being some of the music on his current rotation).
Wavves are enjoying their successful run, which can be attributed to favourable reviews by Pitchfork, Rolling Stone, Paste, Discorder [ed. Haha.] and other reputable music magazines. However, a substantial amount of the credit can be attributed to Williams himself, who in two years has delivered three solid albums. With no signs of stopping (Wavves is currently on tour, ending the last seven shows with French pop superstars Phoenix), we can expect much from the young Californian, who is riding his own wave to indie superstardom.
King of the Beach is out now and can be found at all your favourite record shops.