The Saturday night crowd at the Biltmore rose consistently. By 8 p.m., opening act White Laces began playing abruptly, to a half-full crowd. Announcing they're from Richmond, Virginia, the four-piece had a full and earthy rumble; the bass, keys, guitar, drums, and laptop tracks spread evenly in a blanket of sound. The continuous fusion of chords and drum steps gave an overall ethos of indistinct rockability. Every sound seemed to rush in the same direction.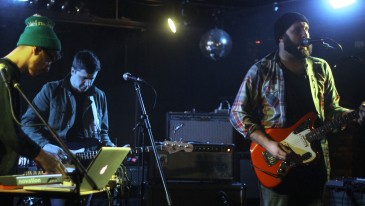 Their stage presence grew refreshed near the end of their set. Clearly one of their better tracks, the second to last song moved beyond White Laces' rock-radio motif. A reverie of rippling pop loops began a spiralling melody. Its motion spun guitar riffs, like overhanging mobiles. This melding of hazy electronics with grungier bombardments was likely the band's intent, realized.
With capacity nearly full, the room once more began filling with sound. The rapid clicking of raced over tracks set the course for guitar notes to sprint and stall on impulse.
The War on Drugs greeted their audience with the first track "Under the Pressure," off their new LP, Lost in the Dream. Lead singer and songwriter Adam Granduciel has a voice that pays tribute to his lyrical sincerity. His tone was immediately confiding and drew a respectful effervescence from the crowd, while the band's sound (minus the occasional saxophone feature) was a facsimile recreation of Lost in the Dream. Even the purple and green stage lights seemed to mimic the album. Like the tapering cover art, Granduciel's performance took place within encroaching haze.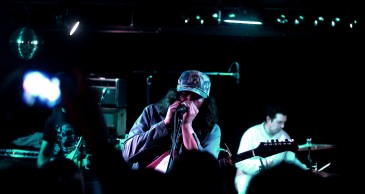 Granduciel addressed the audience with a "How's it going Vancouver?" before dedicating "I Was There" to Nick from Zulu Records. Each line of lyrics moved in exact syllabic sync with a parallel line of chords. Poetically self-contained, these pairings crafted catching phrases like the iconic, "I thought I had him by the hand / I only had him by the glove." On "An Ocean in-between the Waves," the drumming was adorned with lovely and persistent guitar scrawls. Granduciel's lyrical depictions of emotional drudgery were like a man singing the blues in a rock and roll drawl. "Suffering" chronicled a slower suspense. The verve of guitar notes and their reverb splashed against the sides of the song. Again, Granduciel publicized his pains. Avowing lines of, "yeah, yeah, yeah," each murmur was pulled down by its accompanying chord.
Counting down to "the disco" (Granduciel's description of Glory Days), Granduciel performed a cutting cover of John Lennon's "Mind Games." While his echoing vocals added additional arch to the rings of refrain, it became obvious that Granduciel's endearing voice was a perfect substitute for Lennon's.
[soundcloud url="https://api.soundcloud.com/tracks/122923868″ params="color=ff5500&auto_play=false&hide_related=false&show_artwork=true" width="100%" height="166″ iframe="true" /]
Drawing heavily from Lost in the Dream, Granduciel's performance revealed a patchwork of tonal terrains. His song structures travelled from droning ambience to mountainous melody. In the end, Granduciel's use of instrumental segmentation and heartfelt lyricism deftly drew poetry from a worn spirit.