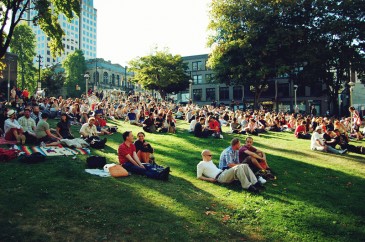 With Vancouver's new-fangled food carts in full force around the park ( Rim Food Baht, Ursu Korean BBQ Tacos, and Coyote Xpress all set up shop), this year's Music Waste/Megaphone Magazine-hosted Victory Square Block Party continued a nine-year run as one of the raddest ways to end the summer.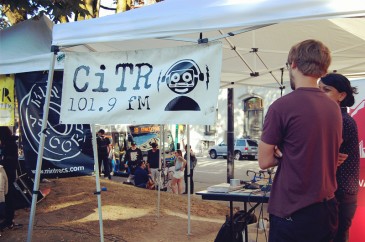 Though I arrived too late to catch the first act, word was that Native drumming group, Blue Whistling Horse, was warmly received. I was on time for the second band, the jangly and spirited Love Cuts, who sound like Cub reincarnate.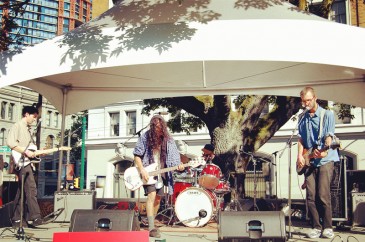 After a brief introduction by Taz VanRassel and Ryan Beil of the Sunday Service, Weed launched into the third set. Will Anderson (lead vocalis/guitar) switched impressively from mumbling to hollering as the band churned out fuzzy, grungy guitar pop. Schticky stoner-rap gang Too High Crew followed, appropriately enough and at 4:20 p.m. on the dot.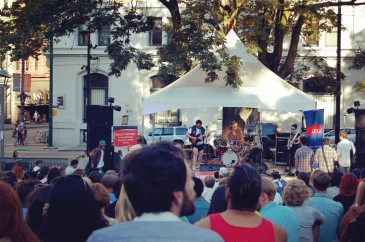 Amped-up, shorts-tearing surf-punk outfit Korean Gut played afterward. Incidentally, at the beginning of Korean Gut's set, band leader Jarrett Evan Samson expressed his intention to rip off his cut-offs, sweaty and unwashed from a previous show, but was stopped by shame at his parents seeing their 28-year-old son "naked on stage."
Post-punk revivalists Mode Moderne put on a decent set, albeit one that wouldn't seem out of place at the first Victory Square Block Party; garage-country rockers Indian Wars' slow-burning, twangy ramshackle set was better received by the audience.
All that paled in comparison to the soulful Ballantynes, who closed the show. Every final act at Victory Square in recent years has drawn dancing crowds to the front of the stage, and the Ballantynes were no exception. Maybe it's their pedigree that does it, as Jarrod "SlimRoy" O'Dell of DJ duo East Van Soul Club also plays in the band. At any rate, soul tunes between sets—courtesy of Soul Club's other half, Jonny "Was" Grayston—and the Ballantynes playing last, made for a perfectly fitting end to the day, and to summer 2012.