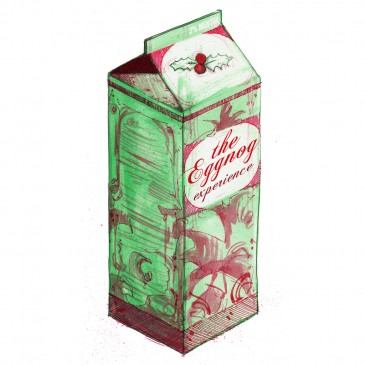 [ed. We know Xmas is over, but some of the songs on this album are a good listen even without the holiday spirit propping them up. We thought that a was a good reason to run this late review anyways.]
Coming from the folks at Mental Beast this holiday season is the Eggnog Experience compilation. It's a great big record made up of 29 tracks by 29 different Vancouver bands with a philanthropic musical vision.
The artists appearing here are united by their willingness to participate in the project, rather than stylistic similarities or genre allegiances, there's a zany hodgepodge vibe to the album, much like a giant pile of presents wrapped in all different colours. Even black; Adjective's tongue-in-cheek "Black X-Mas" details all the difficulties a goth can encounter in the jolly holiday season. Available as a pay-what-you-want download at the Mental Beast website, all proceeds proceed to the Greater Vancouver Food Bank.
Each song is different from the last; some are reworked renditions of Christmas classics, like Jody Glenham's heartfelt "Oh Holy Night" or Paul Anthony's sickly-sweet Fisher Price version of "Silver Bells." Some are original compositions incorporating well-known melodies, as Basketball's hauntingly out-of-tune Balkan folk song "Zima Dodje," which features a snippet of "Carol of the Bells."
Because of the format and philosophy of the album, it's easy to find something you like, skipping what doesn't catch your fancy and enjoying the general holiday cheer (or anti-cheer, Tight Solid bring plenty of that).
As well as a charity fundraiser and non-cheesy Christmas album (take that, Diana Krall), the Experience is a huge sampler of local music, great for anyone, from Vancouver or elsewhere, interested in becoming acquainted with the city's music scene. Where else would one have encountered the glitchy, sample-driven electronic pop of Secret Mommy or the abrasive synthscapes of Haunted Beard? If you're tired of all the same Christmas songs, you may wish to download this album.
Download the Eggnog Experience at www.mentalbeast.com