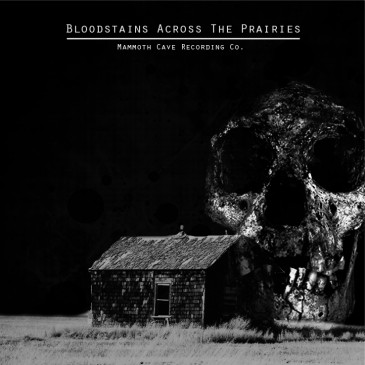 Proudly based in Lethbridge, Alberta, the folks at Mammoth Recording Co. are determined to prove that there is more to the Prairies than farming, oil and CFL football. The fourth in a series of seven-inch compilations put together by Mammoth, Bloodstains features thirteen compelling and vital bands from Saskatoon and Winnipeg. The collected songs are weird, quirky and at times downright creepy. But most of all they are exciting.

The Saskatoon side is particularly unexpected. UandI's epic one minute and twenty second track, "Feral Children," is strange yet absorbing, while the ambiance of Cave's "Feed the Plow," is somewhat unnerving. Haunted Souls and Eyebats kick up the fun with a couple quick blasts of punk rock, making way for Stephen Cooley's instrumental jaunt, "Gets Us Nowhere."  Auld Beak then conjures up ghosts of emo-past, before leaving Trees to close out with the warbly punk rock diddy, "Weyburn 1952."
The quality of the Winnipeg side is less surprising considering the Manitoba capital's long line of stalwart punk rock bands. Atomic Don and the Black Sunrise start things off with the lo-fi doo-wop ballad, "Evelyn," while Microdot goes for guitar driven slow burning hardcore. Next up is "Poison Noise Saintdom" by Plague Rats Throughout History—enough said.  Angry Dragons and This Hisses blaze through very different yet equally amazing tracks both featuring great female vocals, and finally, F.P. Tranquilizer 's "Our Love" ends things with a smile.