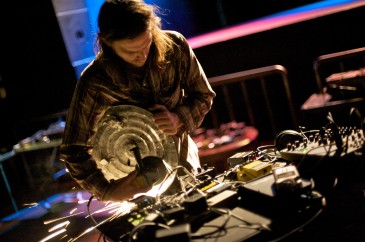 As clichés may go, declaring Vancouver's experimental music community as "harsh music for a harsh environment" — as in one 2008 Exclaim! article — isn't a bad thing. And for one weekend in late July, one could see the meaning of that turn of phrase firsthand at the Vancouver Noise Fest, now in its second year in its current incarnation. Its first incarnation was the Shitstorm Vancouver Noisefest at VIVO Media Arts in 2008, but the event went on hiatus until 2011, when organizer Anju Singh re-launched it simply as Vancouver Noise Fest.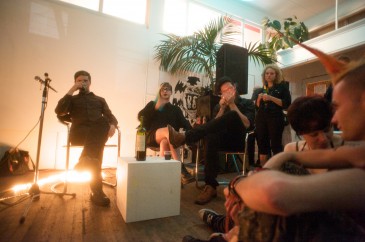 This year, the festival took place at two venues, each with its own atmosphere: the Art Bank and the Rickshaw Theatre. While I didn't attend day one at Art Bank, featuring a parade of local notables, including V. Vecker Ensemble, Josh Rose (the source of the aforementioned Exclaim! quote) and Anju Singh's own project, the Nausea, I did attend the second, positioned as the highlight of the fest. And how it was.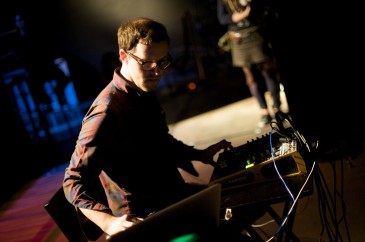 The second day's performers were a mix of locals (Nite Tide, Sistrenatus, Masa J. Anzai, Taskmaster, Worker, Rusalka, and The Rita) and out-of-towners (Victoria's EARS and Griefer, Portland's Unexamine, Seattle's Dried Up Corpse, and L.A.'s John Wiese, best-known from collaborations with Sunn O))) and projects like Sissy Spacek). The normally cavernous Rickshaw was curtained off, and tables of equipment passed across the floor after each set like emptied dishes at a banquet — a noisy, terrifying banquet.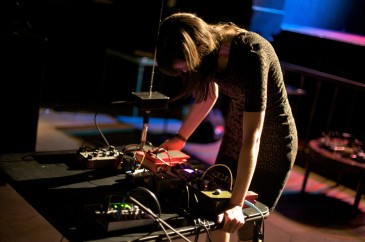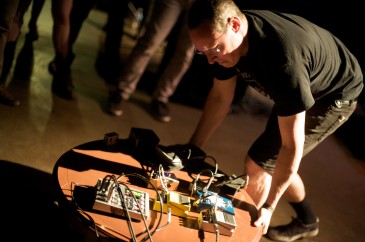 Utilizing various combinations of microphones, effects units, mixers, samplers and found objects like portable televisions tuned to static, the first few acts conjured up horrific soundscapes, evoking visions of plane crashes, Wal-Mart stampedes, impending death and decay. I trembled with a delicious trepidation after every set.
There was one notable exception. In the middle of the utter existential and physical terror that characterized most of the sets before and after it, Masa J. Anzai's set began with an oasis of pure tones, seemingly emanating mantra-like from an electronic oscillator, a meditative island retreat in a sea of nihilism. Still, the tranquility was gradually overcome by extremely structured static, the sound waves seeming to converge precisely in the middle of the floor; Anzai's set seemed to appeal more to the tactile sense than to the aural in these parts. Though for the most part I enjoyed the sensations, I felt occasional bits of nausea. Not an overpowering sense of sick, but more than during the other sets that night.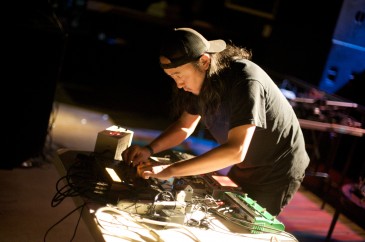 For me, the contrast between Anzai's show and everyone else's was, to say the least, poignant. It was bracing and, at times, uplifting; a reprieve from the dysphoria of the other sets. It was a good place to catch a breath for the rest of the night, for each set that followed Anzai's was more abrasive than the next, plunging further and further into a jagged abyss.
Out of all the acts I was able to see that night, Griefer was perhaps the most actively aggressive of the night's performers, attacking the floor with a rake and his mics with electric motors while stomping around and barking disjointed screeds into the audience. Taskmaster was the most minimalist, but was still able to conjure terrible gale-force winds from his three effects pedals. Worker, appropriately enough, used an angle grinder both for the sound and for visual effect – flying sparks and literal abrasion.
The third and last day of the festival back at the Art Bank was an afternoon show, and appropriately lighter and shorter, fitting with the time of day and the smaller venue. RRKKTTTSS explored the sonic possibilities of a found hospital PA, while KXTEEN dabbled in reverb-drenched vocal looping. Psychic Tuberculosis shared a set with Jake Hardy of Holzkopf on an overdriven groovebox, lending an R2D2-in-a-punk-band presence to the Psychic TV-worshipping feedback loop outfit. Next up were Dadaist, album-smashing turntablists Spinal Extractor (a collaboration between Matt Read and Joe Smiglicki, who also help run up-and-coming Vancouver-Calgary based imprint Unit Structure Sound Recordings, among other projects), followed by Ejaculation Death Rattle, Mel Paget's sample-based industrial project Mass Marriage, then N. 213 and Nurse.
Ejaculation Death Rattle released an onslaught reminiscent of Ben Frost at his harshest, a crisp mélange of violin loops, muffled screaming and sequenced, rhythmic thumping over a backdrop of no-input mixer, while N. 213 (Nic Hughes of Shearing Pinx) played a capella dirges that segued into harsh noise.
And in what might be a fitting end to the event, local guitar and bass-dronists Nurse played the fest's ultimate set, simultaneously reminiscent of the Dead C's mellower and more atonal moments, in a haze of pot smoke, a gentle wind-down to a dramatic weekend, stereotypes be damned.