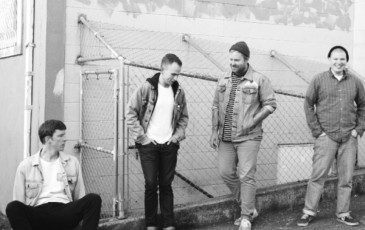 It's an unlikely home for a hardcore band. La Casa del Artista first opened in 2006 for the purpose of showcasing live mariachi music. A towering mustard-coloured building on the corner of Main and 3rd Ave, it's on the back steps that I first meet three members of Vacant State: Terry Wilk (vocals), Adam Mitchell (guitar) and Chris "Gustav" Gustafson (bass). Relocating to their ground-floor jam space, we sat down (on the floor) to discuss Vancouver's punk scene, all-ages venues and their debut long player Fill the Void.

"We used to play shows here," Mitchell says of La Casa. "The other half of this building did all-ages shows for a number of years, but then there was some damage to the hall so they stopped doing it."
It was drummer Brent Glasgow Brown who had the idea of renting out a rehearsal space from the venue that banned punk shows. The place now serves as a practice spot for half a dozen local hardcore bands, including Keep it Clear, Lush Vegetation and Circles. "After we'd been here awhile they started doing shows again," Mitchell adds, "but that has since stopped."
Inspired by American '80s hardcore bands like Negative Approach and Last Rites, Vacant State shows get some pretty wild reactions. "There was a show where I had to punch a guy," says Wilk, adding that another night ended in a trip to the emergency room. "We played a house show and we got four songs in and a guy got knocked over and fucked up all his [Gustafson's] shit," he says. "He [Gustafson] hurt his shoulder and had to go to the hospital."
Such fury and abandon could be incited by Wilk's gravelly scream, which'll tear new holes in all skulls within earshot. Or perhaps the hostility stems from Mitchell's chugging, distorted guitar punctuated by bursts of intense feedback. Either way, Wilk says the resulting chaos is all in good fun. "People have tried to pull my pants down and stuff," he says. "I don't mind it. It's easier than if they just stood there and looked at me."
Prone to playing house gigs, Vacant State say they prefer to keep shows open to all ages. "I think it's bullshit to say somebody can't see the show because they're born in the wrong year," says Mitchell.
Although all-ages venues often have a short shelf life in Vancouver, Gustafson says there's no reason to protest the City's "war on fun." "It's not brain surgery. There's always people complaining that there's no venues in Vancouver and that venues are being shut down," the bassist says, before pointing out potential show locales. "There's so many random restaurants and weird halls around the city. Whether its East Van or Kitsilano you just have to look for those places."
"The reason people think there aren't venues is because people are apathetic," Mitchell continues. "You hear people say things like 'Oh, there's no venues. Oh, nobody's offering us shows. No one's doing this or that.' And fuck, man. The 'y' in d.i.y. is do it yourself, you know? If there's no venues that just means nobody is looking."
Formed in 2008, Vacant State put out two seven-inch EPs before Fill the Void was released on Deranged Records this past August. "It started with two idiots. Just me and our old guitarist Mark [Palm]," says Wilk of the band's origins. "We wanted to make a band that sounded like this, so we did [laughs]. That's pretty much it. And then he quit, like, spring of '09 and we got Adam."
Adding Mitchell to the equation, the band has taken a turn in its songwriting process. Slow-motion pit stomp "Dying World" brutally bashes you in the mug, while "Permanent Headache" flies by in a torrent of offbeats, clocking at 49 seconds. "Mark had written all the songs on the first EPs and three of the songs on the full-length. The rest are mostly Adam," Wilk says of their current collection. "I write all the lyrics."
Wilk's words grab at a terrifying inner rage that is surprisingly personal. "It's just about being fucked up. Just dealing with myself," he says. "There's at times maybe a little commentary but very little." Fill the Void combines nihilist lyrics with good old-fashioned aggression and dischord. But when asked if the album pays homage to the pillars of hardcore—Black Flag, Minor Threat and Bad Brains—Vacant State are hesitant to agree.
"Anytime you're playing '80s-styled hardcore you're kinda having a nod to those three bands, but I wouldn't say it's a direct influence," says Mitchell.
"There's a bit maybe in the lyrics or the noodle-y parts on the new record," adds Wilk, who sports a Black Flag tattoo on his neck. Listing off influences like Negative FX, SSD, DYS and Reagan Youth, Vacant State put their own spin on vintage punk and could be playing in a basement near you.
Vacant State play their record release show November 5 at 360.