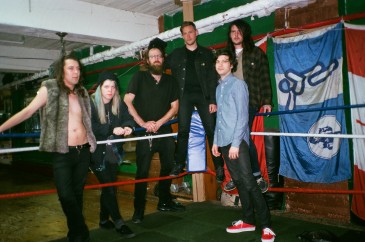 As this article goes to print, Vancouver will be wrapping up the 2012 International Jazz Festival. When I met up with Keith Wecker (a.k.a. V. Vecker) at his East Vancouver home, the Vancouver-based V. Vecker Ensemble are only a week away from kicking off the 10-day festival at Ironworks Studios.
"We're stoked on it. It's nice to be asked [to play at the festival], and not have to apply," Wecker tells me between drags of his cigarette. With their new 12-inch set to be released on Majorly Records this summer, the group has been concentrating on getting ready for the live show.
Since his days studying visual art at Emily Carr, Wecker has spent more time writing music than oil painting. "I once had an art teacher who accused me of going to art school to start a band," Wecker laughs, but at the time he claims he had nothing but art on his mind. But when he discovered electrical outlets in the underground parking of Granville Island, Wecker dove head first into music. The parking garage, infamously known as "The Emergency Room," was the breeding ground for The Sex Negatives, Wecker's previous project, and later V. Vecker Ensemble.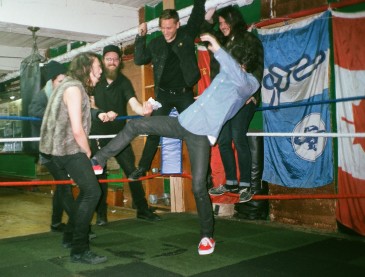 Not long into our discussion, we're joined by David Rogers, V. Vecker Ensemble drummer, who cracks open a can of Pabst Blue Ribbon and lights a cigarette. Noise from a nearby construction site dominates the conversation and when a firetruck speeds by, Rogers carries on as if this were merely background music at a dinner party.
"The Emergency Room was a place where everyone came together, even if they didn't normally hang out in the same scene." V. Vecker Ensemble is but one by-product of this musical cross-pollination. The result is a "plethora of people playing different styles of music in their own bands, but together really pushing their boundaries musically to create something new," Rogers describes.
The ensemble came together for the first time in 2010 as an incarnation of Wecker's solo project. To date, the eight member ensemble comprises Corey Woolger (drums) from the Cowards, David Rogers (drums) who also plays with Basketball and Aquanaut, Liam Butler (bass) from No Gold, Andrea Lukic (bass) and Brody McKnight (guitar) from Nü Sensae, Daniel Presnell from Von Bingen (guitar) and Luka Rogers (santur), also a member of Basketball.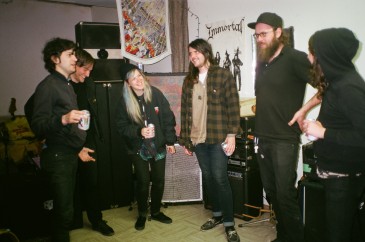 When asked in a recent interview what the V. Vecker Ensemble wants to accomplish, Wecker joked that their only goal is to be nominated for the Polaris Music Prize, "because only bands with six or more members win that thing," he laughs.
But if there's one thing Wecker is serious about, it's ensuring that together the eight members create a sound different from their own bands. Re-lighting his cigarette, Wecker paraphrases band mate Presnell, who said that no one in our lifetime will ever make "new" music, "but if we weren't trying to do something outside of the collective consciousness of the group, for me this would be redundant," he explains. "I might as well go to a temp agency and get a desk job."
David jokingly offers an unlikely alternative. "Or start a house blues band."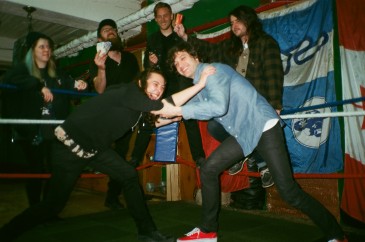 The ensemble has found a place of their own, not intersecting with the member's other projects. "I'm not going to start, all of a sudden, making everyone play something that would be like Basketball with V. Vecker playing organ or No Gold with V. Vecker playing saxophone," Wecker adds.
Listening to the ensemble's latest offering, In the Tower, it's evident that Wecker took this vision seriously. The album, a 20-minute continuous track, was composed and arranged by Wecker.
The 12-inch was mixed and mastered by Josh Stevenson after a one-night recording session at the Media Club in Vancouver. The first half of the track is nimble and delicate, the santur giving a lyrical quality to the otherwise entirely instrumental piece. The subtle addition of instruments, perfectly in key and in perfect time as Wecker calls each player in and out, creates a concentration of ever-escalating energy that builds up to the midway mark where things slow back down. The second half becomes less tonal as the energy builds again and the timing, more disparate. You sense the players losing themselves in a sort of head down, head banging kind of way that drives for In the Tower's duration.
"The way the vinyl is cut is quite nice," David describes the way the santur enters at the bridge of the movement's second half, which will also be the beginning of the second side.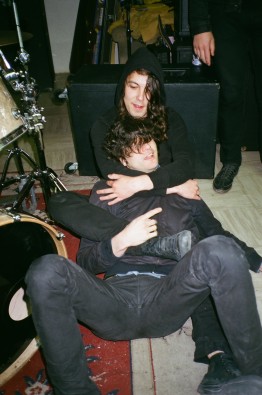 The camaraderie between David and Wecker is obvious, as they spit witty remarks back and forth, dropping the occasional inside joke about band mates who couldn't make it to the interview.
Wecker admits coordinating all eight members is a challenge. But it looks like once the dust has settled from the Jazz Fest and impending album release, the ensemble will try to schedule a tour.
"It is a lot of people," I say. Pausing for a moment, then in a mocking voice, Wecker rebuts, "Broken Social Scene did it, bro."

________________________________

V. Vecker Ensemble will hold the official release for In the Tower on July 27 at the Astoria.