For an independent label that is basically a two-man show, Unfamiliar Records has been soaking up a lot of attention lately. With Pitchfork's recent "Best New Music" tagging of the Japandroids' album, Post-Nothing, the label has become, well, less unfamiliar to the musical masses. Run by general manager and A&R rep [ed. artists and repertoire representatives are essentially talent scouts] Edo Van Breemen in Vancouver and owner/manager Greg Ipp in Toronto, Unfamiliar boasts a solid roster to back up the buzz generated by the Japandroids. Vancouver bands the Clips, Brasstronaut, and No Gold call Unfamiliar home, as well as the Paper Cranes, the Two Koreas, Snailhouse, Stop Die Resuscitate and Toronto/London's Flowers of Hell. "The bands are diverse," said Van Breemen, "we're not after a certain sound, just something that's special."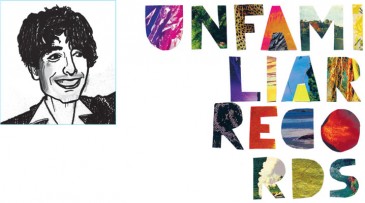 Ipp founded Unfamiliar in 2005 and A&R quickly emerged as the label's strength. Its first release, the Paper Cranes' Veins EP, rose to the top five on both CBC Radio 3 and national college charts. Talent acquisition happens in the casual, slightly nepotistic, manner common to many independent labels. Van Breemen plays for both the Clips and Brasstronaut, and most of the bands were friends with management before being signed. If not, they are always friends afterwards. "I really like hanging out with No Gold," Van Breemen mentioned. "Except that when I go to see them play, I always seem to wake up on their couch."
The label's A&R method, according to Van Breemen, usually consists of coming across an album or sound he finds exceptional from a familiar band, then "Greg and I take a look at finances and see what we can do." Any worries about personal ties muddying the artist-management dynamic would be misplaced, however. Ipp and Van Breemen have impeccable taste, in both music and friends.
Unfamiliar's relationship with the Japandroids started in the usual way. "Edo was a friend," said the duo's drummer-half, David Prowse. "Greg saw us play at Pop Montreal and liked the show, but he hadn't heard the record. We emailed it out to a bunch of friends, and Edo listened to it then passed it on to Greg."
By this point, the Japandroids had already self-released two EPs, and were planning to do the same with <>Post-Nothing, their third—and possibly final—album. "Brian and Dave were almost done," said Van Breemen. "They had paid their dues and weren't seeing the results. But I loved the album right away, and really wanted to release it. I just hoped they would be willing to try one more time."
"We had mailed [Post-Nothing] to so many labels," explained Prowse in a phone interview, as guitarist Brian King packed the van for a trip to Seattle. "When Greg expressed interest in putting out the album, we were pretty much like 'Yeah, sure.' Anybody on board would have been great." Of course, those labels who have Post-Nothing in a stack of discarded demos are now kicking themselves, and perhaps reviewing their A&R procedures. The album has garnered the duo magazine covers, spots at the Pitchfork Music Festival in Chicago and the Capitol Hill Block Party in Seattle, and guaranteed packed houses for the upcoming tour of North America.
The success of Post-Nothing proves that Unfamiliar Records has come up with a winning formula for an independent label. Start with two music geeks, add some serious idealism, subtract any ambition for personal wealth and station them in different cities. Allow the geeks to mix freely with the local music scene. As long as success is measured in critical and public acclaim and not profits, Van Breemen and Ipp are finding it. The label appears twice on the current Polaris Music Prize long list, for Japandroids' <>Post-Nothing and Snailhouse's Lies on the Prize. Both bands face stiff competition from the likes of Leonard Cohen, Chad VanGaalen and Wolf Parade, but past-winner Caribou proves the $20,000 award has little to do with star power. Winning would carry big payoffs for either band, both financially and publicity-wise, but in the short term, the label would benefit only in the latter realm.
Both Ipp and Van Breemen stress Unfamiliar's slim (or non-existent) profit margins, but neither seems jaded. "Over the years far more money has gone into the label than has come out of it (anyone who thinks they should run an independent record label to get rich, think twice!)," Ipp wrote in an email before he enthusiastically dove into describing the label's philosophy. Van Breemen, similarly smiled and admitted, "We're all living back at home again. Ladies, however, should not worry: Mr. and Mrs. Van Breemen are spending the summer in France.
Considering Unfamiliar's consistently upward trend, the outlook is good for the parents of Van Breemen and Ipp to once again reclaim the nest. That is, if the men are willing to give up open access to stocked fridges any time soon. Convincing a young man to do that, my mother once said, is akin to convincing the same man to leave behind an open bar. Difficult, at best.
The managers' personal lives aside, Unfamiliar Records has come into its own as a legitimate and professional label. "We made what I would consider the move from a basement operation to a boutique label within the last six months," said Ipp. This transition, he wrote, began last summer with the release of Snailhouse's <>Lies on the Prize. Shortly thereafter, Van Breemen came aboard to share management duties.
Throughout the label's evolution, the policy of allowing bands complete creative freedom has remained a key tenet. For artists, this laissez-faire attitude is extremely attractive. "A big bargaining chip that Unfamiliar has is their flexibility," said David Prowse. "We have absolute control over anything to do with our album."
Ipp maintains that he started Unfamiliar with a vision of the label as a vehicle for artists to have their music heard. "We're always here to offer ideas, and to help, but ultimately, we're a conduit for their music." he explained. "When we choose to work with someone, we are confident in their ability to create great art."
Even without their artistic idealism, Ipp and Van Breemen are stretched too thin to micro-manage the creative process. "The last couple of months have been crazy and we're doing everything we can to continue the momentum," admitted Van Breemen. Nevertheless, in early June Japandroids signed with Illinois label Polyvinyl, handing over the worldwide release of Post-Nothing to the outfit that handles Of Montreal and Architecture in Helsinki. Unfamiliar remains in control of the Canadian market, and will soon be re-releasing the band's first two EPs on vinyl. The Polyvinyl deal does not seem to have created conflict between Japandroids and Unfamiliar; apparently, Ipp and Van Breemen know their limits. Relations between the two labels are said to be excellent, and though nothing has been signed, Ipp forecasts continuing cooperation. "You will be seeing more Unfamiliar/Polyvinyl collaborations in the future," he said.
Even with much of Japandroids-related pressure alleviated, Van Breemen and Ipp will continue to have their hands full for the foreseeable future. New albums from No Gold, Stop Die Resuscitate, the Paper Cranes and Brasstronaut are impending, as are several yet-to-be-announced projects. Unfamiliar Records is proving itself a label with a sharp ear for quality, an ear that will hopefully, one day, allow the managers get their own places.