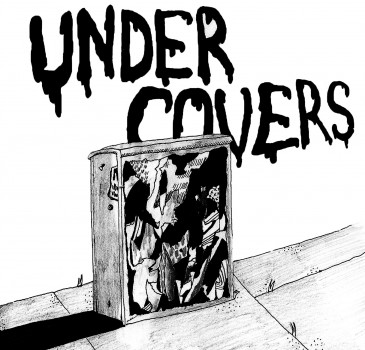 When Juliana Moore returned to Vancouver from New York in December 2010 she moved into the Waldorf Hotel. The condition, set by her friends who had reopened it, was that she help with planning the venue's creative programming.
Taking cues from New York's notorious underground party scene and her eclectic network of performer friends, Moore decided to initiate a night of mish-mash performances from local musicians, magicians, poets, and weirdos. It grew into an event that packed the Waldorf full two Sunday nights per month throughout 2011. In 2012, Moore tweaked the program to focus on collaborating musicians. The self-professed "Bob Dylan nerd" decided they should do a Dylan covers night. The response was overwhelming. "All kinds of weird and wonderful things happened on this night," Moore says.
The success of the Dylan songbook, as it was called, was soon followed by a Neil Young songbook and a Lou Reed songbook. These cover nights united about a dozen Vancouver musicians who each spent about 10 minutes playing tributes to their favorite artists in front of a packed room of their peers.

"Everyone got two songs and they selected them in advance," explained Moore. "If two artists wanted the same song, they have to fight it out. There was one time when Rich Hope and Eric Campbell wanted to play the same Neil Young song, 'Revolution Blues.' Hope ended up giving the song to Campbell on the stipulation that he would mow his lawn the following week."
Ian Browne, drummer in rock 'n' soul blues act No Sinner, played all three nights at the Waldorf, as well as a Nirvana cover night at Fortune on April 5, the anniversary of Kurt Cobain's death.
"One of the best things about these nights was that you could get together with some other people, from a bunch of different bands and say, yeah we're going to make this thing happen." According to Browne, "It shows a level of maturity and openness in the scene that I'm really encouraged by; that we're all collaborating and that we're all students of great music and great songs."
Grunge-inspired three-piece War Baby also played three songs for the Nirvana night, but despite their originals being compared to the Seattle sound, they found the event a bit stressful. "I was honored to do it and am not opposed to a night like that once in a while, but overall I think covers are kind of lame. It's just not what I'm into to," says Jon Redditt.
Girls Rock Camp, a non-profit society that helps to builds self-esteem in female youth through music creation, recently hosted a special evening of covers. On International Women's Day, they invited camp participants and established local artists to play covers for their fundraiser at the Russian Hall. Sarah Buchanan, one of the organizers, said they decided to do a more accessible covers night, despite teaching girls in their program be creative and original with their performances.
"For a lot of musicians, it was a really liberating experience. Folks had been playing in bands for a while, and then on this night, got to play stuff they'd played around the campfire or around the piano with their friends. And do something really interesting with it."
Browne hopes that despite the Waldorf's closing, the songbook series will continue. "Learning great songs and playing them is maybe the best way to actually learn how to write great songs … You actually get down and figure the little nuances and how people are doing something. It's like a light bulb goes on."
Moore appreciates both the educational and collaborative aspect of these events, and has a few ideas for potential cover nights including Tom Waits, Patti Smith, and Paul McCartney & Wings songbooks. "I'd produce these nights again in a heartbeat if with a group as enthusiastic and weird as the Waldorfians were."
While the songbook series is on permanent hiatus, there is an obvious appetite for more tribute nights in the city. For Vancouver's musicians, music fans, and producers like Moore, there are still a myriad of musical influence left to explore.
_________________________
Who would you like to cover most?
Ian Browne, No Sinner: "Graham Parsons. John Lennon would be fucking awesome. Or Waylon Jennings."
John Nesbitt, War Baby: "Time Passages over and over again by Al Stewart. Otherwise, don't call us."
Sarah Buchanan, Girls Rock Camp: "I once hosted a Dolly Parton/Linda Ronstadt covers night in my shed, and I would happily repeat that over and over again."