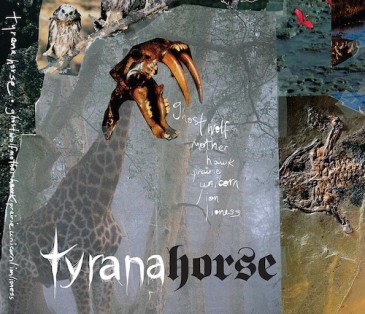 As both the band name and album title might suggest, Tyranahorse's debut record is the deformed lovechild of many musical creatures. Though elements of rock and indie folk are perhaps most prominent, it's the seemingly unscripted ventures into vintage psychedelia and noise that make ghostwolfmotherhawk: prairieunicornlionlioness such a majestic and untamed beast.
At first blush, the Vancouver quintet's approach to songwriting could seem formulaic: bouncy riffage and chanty sing-a-longs are coupled with a mouthful of indie nomenclature clichés. However, a second listen reveals unexpected pockets of creativity. Like a hyperactive kid who forgot to take her Ritalin, several songs absent-mindedly transform in tone and instrumentation into something quite spectacular. These disorienting synths, dissonant harmonies and impromptu kazoo solos highlight the band's tongue-in-cheek perspective on the state of indie rock, and are often endearing in their sloppiness.
On the opening cut "Joy Wolf," frontwoman PrOphecy Sun channels the spirit of Jefferson Airplane with flecks of Cranberries-era angst. With voices warbling with emotion, "Teenage Girl" captures that aching jealousy caused by too many whiskey shots and the unexplained absence of a lover. The album's standout track "Keep it Together," best heard in a dark ale-drenched dive, offers an exceptionally satisfying electric organ hook.
For their guts, chops and strange sense of reflexivity, Tyranahorse is truly an exotic species.