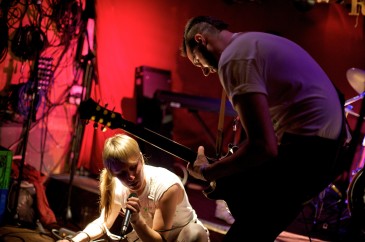 2011 was a big year for Tyranahorse. Though online copies of their debut album, ghostwolfmotherhawk:prairieunicornlionlioness, surfaced in late 2010, the full-length was officially released last June. Since then, the set has experienced chart love on college radio across Canada, and helped earn the band — singer Prophecy Sun, bassist Jero Welz, drummer Brent Glasgow Brown, guitarist/vocalist Darren Fleet and keyboardist/guitarist Max Stockholder — a spot in VanMusic.ca's Best 10 Indie Vancouver Bands of 2011 list. Tyranahorse also shot and released four quirky and fun videos that suited their experimental art-punk sound, including the planking-heavy video for "Keep It Together" that hit right at the height of the fad last summer.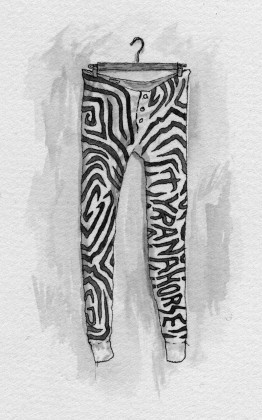 All the while, they built their local following playing lots and lots of shows, particularly in the fall. Three of those were for CiTR's SHiNDiG, where Tyranahorse eventually placed second (behind Sleuth and ahead of From Birch To Yew).
The placing was a shock for some in attendance at the Railway Club who felt Tyranahorse should have won. When Discorder met up with the band a few weeks after the finals around Glasgow Brown's dining room table, they admitted their surprise as well. "It was tough to finish second," Fleet explains. "You try not to take it too seriously, and then you're in the final so you start taking it seriously, but obviously only one can win."
Not that anyone begrudges Sleuth their win. "Sleuth played a really great set," Glasgow Brown said. "SHiNDiG was a crazy experience but it was also really rad," frontwoman Sun offered of the contest. "Each night we'd end up meeting other bands that we'd love to run into again. Like From Birch To Yew [a.k.a. Norika Yue]—what a great guy! Total sweetheart. He was helping us with amps and set-up."
In the midst of the competition, the quintet headed into the studio to record a new four-song EP they'll be releasing this spring called Garbage Bears. According to Fleet, "The name comes from one of the songs ["Alice"] which traces the philosophy of a series of fairy tales and blends in modern concepts: 'Alice is feeding the garbage bears.'"
"Alice" is a brooding piece that ebbs and flows in three main sections, bursting out into punkish defiance at some points while settling down upon layers of delayed whistling, evoking a forest full of chirping birds, on others. It even paraphrases one of Friedrich Nietzsche's more obscure poems with the line "Go on and let the stupid people go on screaming." Fleet feels the message can be summed up as "Don't allow people to make you afraid of discovery."
The songs on the new EP arose out of jamming together and capture the energy Tyranahorse brings to their live shows. "I think our best songs have come out of jams, because it cannot help but have an authentic feel," says Fleet. The goal was to have a more organic flow and get away from tired "verse-chorus-verse-chorus-bridge-chorus" structures.
"Everyone comes from such different music backgrounds,' Glasgow Brown offers of the band's make up. "People are hearing things that are totally different from one another. Which is fascinating, the way it always
works out."
Unsurprisingly, Tyranahorse are involved in many side projects. Sun has her hand in many different avant garde and experimental ventures, from her electroacoustic solo project to playing with the Vancouver Electronic Ensemble, Her Jazz Noise Collective and more. Fleet used to be "that guy in the coffee house" with a folk-rock singer-songwriter vibe and he also plays in The Adulthood with Sun. He's also "done the hardcore thing," as has Glasgow Brown, who currently plays with punk rockers Vacant State.
Somehow, chatting about Vancouver's varied music scene brought up mention of that local band everyone loves to hate, Nickelback; Welz sarcastically said they were the best thing to ever come out of the city. After everyone had a good laugh, Stockholder admitted that he's on board with the Brothers Kroeger these days. "I used to hate 'em but now I think Chad Kroeger is kinda coolest guy in Vancouver and you can quote me on that!" the keyboardist chuckles. "I also react to the fact that there's this holier than thou attitude against them now, which is ridiculous."
While the debate on the 'Back rages on, Tyranahorse agreed that Vancouver's indie scene is overwhelmingly supportive and positive. "It's thriving here!" Sun says excitedely.
"I feel like there are so many bands, it's a really active music scene. It's pretty cool that people are exploring the music scene and people go out to other people's shows."