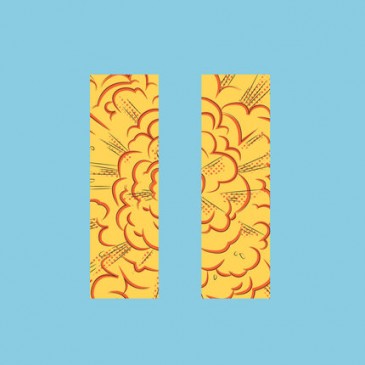 Two Fingers is the hip hop alter ego of Brazilian beatsmith Amon Tobin, and Stunt Rhythms is his second offering under the Two Fingers banner. Although there's a lot to like about this album: it's inventive, cheeky, and heavy as all hell, it lacks focus. It doesn't feel like an album so much as just a collection of songs.
From the get-go, Stunt Rhythms makes it clear that it will not be taking any prisoners. "Stripe Rhythm" is the sound of the mothership landing, an alien ray gun invasion where the phasers are definitely not set to stun. However, the album starts to drag its feet after a few tracks. Things begin to run together, because with a few exceptions, most songs are the exact same tempo. Although this makes for great beats and excellent DJ tools, particularly since that tempo is perfect for use in drum and bass sets. Unfortunately, as a result Stunt Rhythms is not the most compelling listen in the context of an album.

There are definite highlights: "Crunch Rhythm," "Elmer Rhythm," and "Rock Scissors" spring to mind — but you have to dig for them. This is particularly disappointing coming from Tobin, a man whose solo work has produced albums so distinct and indissoluble, albums where the whole is greater than the sum of its parts. Stunt Rhythms has nice parts, certainly, but they've been approached as standalone elements. There doesn't seem to be much thought given to how they work together.
For these reasons, the album is hard to recommend to anyone who doesn't already have an appreciation for big, bass-heavy beats. Even existing Tobin fans may be put off by the lack of cohesion and production that is, by Tobin's standards, somewhat conventional. It's hard to deny, though, that on their own, these tunes do pack a serious wallop.