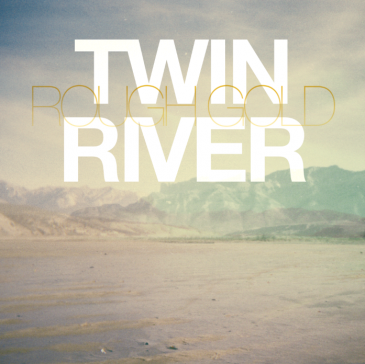 Folk. Indie. Pop. Psych. Those four words pretty much sum up Twin River, a band formed in the summer of 2009. Core members Courtney Ewan and Andy Bishop have chemistry that they've developed playing in a few local bands that seem to prefer nature-themed names, like Red Cedar and White Ash Falls.

The first two songs on Rough Gold, "Can't Keep This Alive" and "Feather," have (at times) beautifully intertwining melodies, while the closing track, "Family Tree," is lyrically deep and vivid. These are fairly mature songwriters, and the sound Twin River is going for is nostalgic, as if looking back to the golden age of psych-folk. Yet somehow it still sounds totally modern.
The EP's downfall is the sound levels. Bishop's endlessly noodling guitar is too far in the foreground. It would be listenable, even enjoyable, if it wasn't all you heard. The sound levels, and to a lesser extent  the arrangements, make the ideas here seem like they're not fully realized.
Hopefully Ewan and Bishop's next work will have their lovely lyrics and melodies presented in the best way possible. There is serious potential here.