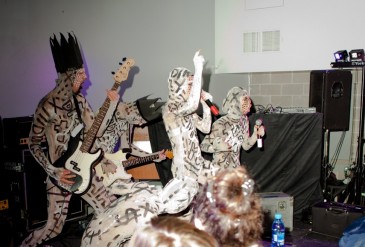 Occasionally there are shows of great significance and rarity, to which, with the right combination of attention and good luck, you get the privilege of witnessing. This was one such show. Indeed, it was a threshold evening for local sonic vigilantes Basketball; within twelve hours of playing they had to pack up their massive amount of gear and fly out for a European tour.

Because of the late start, Andy Dixon's DJ set was cut pretty short, but I got the impression that he was just as stoked as everyone there for the two headlining bands to get started. Having followed Basketball for several years, I've seen them put on some incredible performances and even in the face of countless technical difficulties, still be able to make the crowd go totally apeshit. This was one of their tightest sets ever and their trademark middle Eastern folk pop meets West Coast bass culture was beyond fully satisfying. Props must go to W2's resident sound guy, Darby Peterson of Application Audio, for making a venue that is essentially a concrete box sound really fucking good. The set closed with "Suspiros de Chile," the first track off their LP, Maw. Close friends of the band came up on stage, including Adi Hadzismajlovic, former frontman of now-dispersed gypsy maniac ensemble Mezamazing, and death-folk crooner (and brother of Basketball's electronicist Luke) Ben Rogers. Altogether a warm send-off for a band that has contributed unquantifiable amounts of juice to Vancouver's music scene.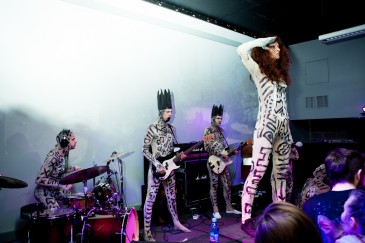 Closing the night was Tokyo's Trippple Nippples. If you just defeated the final boss in some fully-immersive multidimensional video game from the future, Trippple Nippples is what the victory music would sound like: all pixelated fireworks exploding at 160 BPM while your high score flashes triumphantly. The six-member band all wore matching one-piece bodysuits decorated with bold black slashes that looked somewhere between an alien language and leopard spots. The performance had the cheeky endearing innocence you might expect from rebellious adolescent Japanese girls reinterpreting Destiny's Child. The three girls fronting the band were full of fierce swagger, taking turns getting up on one of the speakers; at one point during a breakdown halfway through the set, two of them posed next to each other and took bites of hamburgers, which they chewed for a moment and then spat onto the crowd. This was likely a toned-down example of the antics the band is notorious for, which apparently has had them banned from venues in the past. By this time, though, the crowd was full of enough overpriced beer ($4.50 for a Cariboo?) that everyone just laughed and continued manically dancing. The set closed with the frenzied psychedelic dance anthem, "LSD" (check it out on their Soundcloud page if you haven't heard it; it's a must-listen).
All in all this show was an optimal display of two bands in their respective primes; each on the upswing of creative and performative prowess.