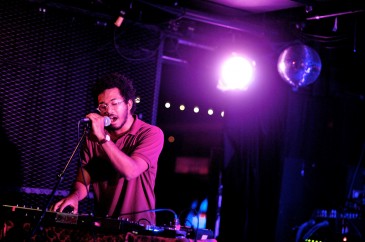 Toro Y Moi – Blessa
The best thing about going to the Toro Y Moi and Nosaj Thing concert were the surprises to be had. An early show, I've got to admit that I wasn't expecting a whole lot. I entered the Biltmore from the night chill with second-hand knowledge of Jogger being "pretty good, you know?", high expectations of Toro Y Moi's chillwave set, and an impression of Nosaj Thing as a "new music" phenomenon. I had seen Nosaj Thing in a couple of videos set to video modulations (think iTunes visualizers on crack) and was hoping for much the same. On all counts, I was in for a surprise.
Jogger opened the evening with great, loud, crowd pleasing songs that got everyone going. Dancing at a chillwave and trip-hop concert is almost an oxymoron, but Jogger were the perfect opener to warm up our joints. A few PBRs later the band that had previously seemed to be the headliner hit the stage—Toro Y Moi.
Toro Y Moi is the stage name of one Chazwick Bundick. The 24-year-old is Internet famous for lo-fi sticky sweet songs like "Talamak" of his debut album Causers of This. He wears glasses that Steve Erkel would be jealous of, and is a king among hipsters. Chillwave was birthed in the summer of 2009, and is essentially what happens when shoegaze pop meets a dance beat. Toro Y Moi epitomizes the sound, as if K-Os performed at half-speed over a reverb drenched disco beat. This is probably the most distinguishing feature that pulls Toro Y Moi out from the general chillwave crowd—he is definitely indebted to hip-hop in the production of his music, substituting lo-fi hiss with mellow layers and sick beats.
The dreamy bliss of Toro Y Moi melted away and left room for the musical modulations of Nosaj Thing. Another 24-year-old, Nosaj Thing goes by the name Jason Chung and is without a doubt one of L.A.'s top electronic manipulators. His album Drift is a treat for the ears, heralded by Pitchfork as "gorgeously haunted" with "sonic Easter eggs for a thousand listens" and garnering a 7.9 rating—not bad for a brand of glitch-hop that is often overlooked. Those who had first danced jerkily to Jogger, then swayed to Toro Y Moi were soon moving woozily. His music inspires a full body response as your mind is just as engaged in listening as your body is with dancing. The finishing touch to his set was "Aquarium," a Nosaj Thing original track that now forms the background to Kid Cudi's "Man on the Moon."
Whether that last fact is a draw for you or off-putting shouldn't matter. Bands this young and talented deserve an ear, and I can guarantee that they've out-downloaded you in their time. So do a little Googling, grab their albums and see them next time they come to town. The Internet, like these younguns, won't let you down.