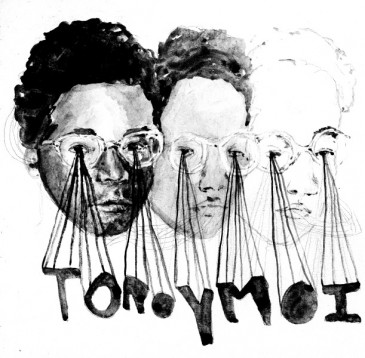 With a glut of acts flooding the market these days, there are bound to be countless bands that get swept under the rug. Only artists that allows themselves to shift directions and incorporate multiple influences into their music will possess the power of longevity. This is the case with the Toro Y Moi.
Started up in 2001 as a bedroom project by South Carolina native Chazwick Bundick, Toro Y Moi has become an eclectic, genre-hopping phenomenon. Discorder caught up with Bundick over Skype during his first tour of Australia to talk about his music-enriched life, his new album, Underneath the Pine, and his personal reflection on life as a recording artist.
Bundick began his musical endeavours at the age of eight when he learned to play the piano, but the early artistic experiment didn't take. "It wasn't my favourite thing to do" he admits, "it was a bunch of work." Bundick's appreciation of music was given new life, however, when he discovered the guitar a few years later.
Though he earned a BFA in Graphic Design at the University of South Carolina, post-graduation Bundick decided to make music his life. "Graphic design was my focus while I was in school," he explains, "now my focus is music."
Since then, Toro Y Moi has wildly explored the wide world of music. Proving that Bundick's methods are constantly changing and evolving, his back catalogue highlights a plethora of different genres, from Stevie Wonder-style funk to R&B to French House. While heavily influenced by his parent's vinyl and tape collection, he also possesses his own collection of around fifty vinyl albums. Although not as large as some of his friends' collections, Bundick's musical assemblage is as multifarious as they come. During the interview, Bundick playfully showed off some newly purchased records (KPM Music Library's Piano Cocktail, and Claude Denjean's Open Circuit were among his finds).
Over the past two years we have been graced with a number of eclectic outings from Bundick, from his phenomenal chillwave debut Causers of This, to the garage rock-tinged Leave Everywhere seven-inch and now with his latest funky album, Underneath the Pine. The new disc is a significant departure from the early, electronic sound of Causers Of This, as it was recorded with live instrumentation. With hints of Stevie Wonder, Lonnie Liston Smith and Ennio Morricone, the album is a giant leap forward for Toro Y Moi. The soul-disco style of "Still Sound" includes a earth-rattling bass riff so funky it could move mountains, while the airy, sexy synth-jam "New Beat" pays homage to Liston Smith's atmospheric fusion period.
Bundick has established himself not only as a prominent artist of the chillwave movement, but also as one with the ability to transcend the genre, moving onwards in a positive direction. With a new album to promote and a host of upcoming tour dates—including a show at the Biltmore on March 28—it's shaping up to be a very successful year for Toro Y Moi. There's no telling what the South Carolina wunderkind will end up doing next, but we have a feeling it will be just as astonishing as his previous efforts.