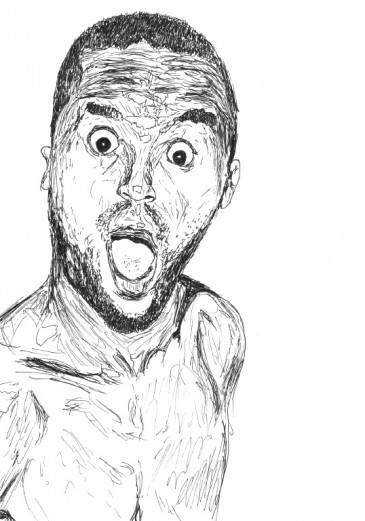 Tony Dallas is an excellent drummer. He plays with Boogie Monster, Fan Death, the SSRIs and even in the backing band for Hot Tub Time Machine. We think he's a pretty cool guy so we asked him if he would share some of his favourite places in Vancouver via email. This is what he sent us.
Restaurant //
Hmmmmm that's tough. I love all kinds of food and there's so many great places in the city to eat, but when I'm really craving [something] (and some may disagree), I hit up Primetime Chicken & Chinese Food 'cause I love fried chicken and it's exactly what you're getting. It's not healthy and damn well can't be good for you, but it's cheap (like $5 for a four-piece deal) and if you're lucky, you might get served by a dude with a "ponytail mullet" (Google it).
On the other hand, if you're with a few friends who really wanna grub out, go to the Afro-Canadian Restaurant and share some huge Ethiopian platters. The atmosphere's chill, they serve liquor and the main guy that works there is hilarious (he asks "how's the food?" like every ten minutes). They also have vegetarian options so everyone's happy.
Deacon's Corner and the Reef are really great too. You see? I can't even choose.
Record Store //
Sorry I buy CDs, I know … lame 😛
Other Store //
I'm not a huge shopper, but I do go to the dollar store a lot, mainly the Dollar Giant on Commercial. It's a simple man's shop but everything is virtually $1. You'd be surprised what you can get for a dollar, have you ever bought a $1 starter tool kit? I have.
Venue //
The Biltmore for sure. It's a just an overall great spot to perform, dance, see live music, drink, party, play drunk tetris, makeout… etc. The bar's affordable, [it has] classy decor, the location is super residential and there's always something going on. Bored on a Wednesday? Go to Paul Anthony's "talent time" and laugh your ass off, nothing to do on a Saturday? Call up your gf's and hit up "Glory Days" and bring my!gay!husband! some cheeseburgers, he loves cheeseburgers.
Bar //
The Keefer is like stepping into that bar from the new Star Wars (Episode II). It's really sleek and classy, some of the drinks are a bit pricey but totally worth it. I'm talking highballs-with-hints-of-lemon-and-mint-leaves and glowing-bottles-of-Alize fancy, even the water tastes like cinnamon!
On a side story, once I went to party in the building next door where the Penthouse had a transparent see-through pool full of naked people swimming and I thought, "how convenient is drinking at a sweet bar downstairs then crashing a naked pool party upstairs?" Quite.
Band //
Since I'm forced to pick I'll have to go with Run With the Heard, a wicked electro/hip-hop collective. Great performers, every show has to do with a theme (ie: cats, the '90s, cowboys) and their sound manipulator, Zach [Webb] is the only person I've seen to put a Guitar Hero controller and Powerglove to good use. Hands down the hardest working in the city.
Also check out: the Good News, Oh No! Yoko, Humans [who you can read about on page 10], MT-40, Basketball, the Dreadnoughts, Manyourhorse, Young Liars and Ninjaspy. Sorry had to sneak those in, I can't pick just one.
Anything else you think shouldn't be missed in Vancouver? //
For those that don't mind the sticky icky, Vancouver Seed Bank is a great spot to kick it and you know. The staff is super friendly and highly knowledgeable (no pun intended). After that, round up the troops and bike the Seawall on a sunny day and go to Third Beach or Stanley Park, but actually bike. They use to make me walk-a-thon that shit in high school and I hated that.
Lastly, check out the Jimi Hendrix Shrine, apparently it's where he used to stay when he visited his grandma back in the day, an awesome gem of musical history.