Todd Fancey has been performing in the Vancouver music scene for over a decade, playing in different bands and working on his solo project, releasing two albums (with a third on the way) with Anastasia Siozos under the name Fancey. He's most widely known for his work as a guitarist in one of Vancouver's favourite local rock bands, the New Pornographers. But we wanted to talk to him to find out more about his other gig as a residential care worker at a group home for troubled youth in Vancouver.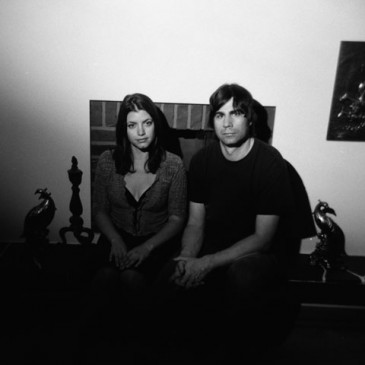 The New Pornographers are one of the biggest rock bands to ever come out of Vancouver; critic's darlings with a string of exceptionally well-received albums, they've won Juno Awards and other accolades, while touring all over the world. We were surprised that a band as popular and successful as the New Pornographers has a member who also works a day job in Vancouver, between playing the Late Show with David Letterman and appearing at the Hollywood Bowl.
And of all the jobs that Fancey could be doing to supplement his work with the band, he's chosen a job that a lot of people wouldn't want (or be able) to do: working with kids in some very tough situations, kids who have nowhere else to go. It's worth noting that other members of Vancouver's music community have similarly worked in demanding private-public social health jobs. Fancey pointed to Black Mountain, another celebrated Vancouver band whose members have worked at the Insite Supervised Injection Site. Other local musicians who do (or have done) social work in Vancouver, include members of Japandroids, You Say Party! We Say Die! and the Choir Practice.
Fancey, who walked over to meet me at a bar in Mount Pleasant straight from a rehearsal with the New Pornographers, is friendly, funny and personable right away. Over the course of the evening (and some beers and Caesars), the conversation veers from Australia's most dangerous creatures, to Seinfeld, to Fancey's admiration for Lady Gaga's "Pokerface." When we began to talk about his day job at the group home, he obligingly replied, "Sure, I'll tell you whatever," before laughing and adding, "I just hope it's not too boring."
Fancey works for a Vancouver-based children's and family social services agency. The organization is a public-private partnership, and its main focus is the operation of fully-staffed group homes that are scattered throughout East Van. At any given time, each home will have between three and five youths in residence, ranging in age from about 10 to 18.
Fancey said his job is different each day. "It's just making sure everything goes well in the house. It could involve so many things; it could be breaking up a fight, taking someone to a hockey game, calling a social worker, sitting around watching TV with the kids, playing basketball. It's kind of cool, cause you're just airdropped into their lives for eight hours." Currently, Fancey works at the group home part-time. "I was full-time between 1999 and 2005, but then, with the New Pornos, we just got really busy and started making a more legitimate living off it, so I just took a leave of absence at one point, and then came back and now I'm just on the casual list, where I just do a few shifts."
On a more grim note, Fancey tells how his work with the group home has occasionally run into his life outside it. "Kurt, the drummer from the New Pornographers—we used to rehearse at his place, and he lived on Cordova. When we would see them [the kids] on Cordova, a lot of them were heavily involved in the sex trade and you see them and they're in really rough shape. And a few have been known to pass away, and you hear about it when they're 20 or so, and that's happened a few times as well. It's really sad."
Working at the group home for over a decade has certainly had its share of sad, difficult and outright scary moments. "A typical day you're just there, making breakfast, reading the newspaper, chatting and watching the sun come in through the window. But then, all hell does break loose sometimes… I had a syringe thrown at me that was full of blood. That was the closest call ever," Fancey related calmly without sensationalizing. "And she actually has Hepatitis C. Great kid, I love her, but that was the most dangerous thing that ever happened to me."
Dealing with situations like this can't be easy, so why does a successful musician like Fancey—a talented, smart, likable guy who could certainly find work somewhere else—work a job as emotionally draining and potentially dangerous as this one? He acknowledges that part of the appeal is how it fits around his schedule, allowing him to go on the road to tour or take time off to record. "But also it's just such a great job. I'm so lucky to get into that field. I used to work at the bank. I used to wash dishes. I used to be a security guard. Those are not fun jobs, but working with the kids you do actually feel like you are kind of helping."
Asked if he finds the job rewarding, he replied that "It can be. It can be really rewarding. I think the most rewarding thing is when you're able to toss in a little encouragement. It doesn't happen that often, and you don't want to push it, you don't want to be phoney with them. Fairly recently, I've actually met a few kids who are musically inclined, and I don't know if they're listening to me or anything … but that can be rewarding when you're able to provide some encouragement."
He is also keeping busy with his own musical endeavours, including a still-untitled upcoming album with Siozos (the first single "All My Friends" will be released Sept. 27) and a forthcoming New Pornographers album with a "pretty solid" release date of spring 2010. "Carl [Newman, front man for the New Pornographers] actually lives … in upstate New York now … and I'm going to go record my guitar parts there. I'm really looking forward to it, because I'm going to pretend we're Led Zeppelin, like when Led Zeppelin used to record in the country … that's what this is going to be like; we're moving the gear to, basically, a cottage. So that record's sounding really good."
As excited as Fancey gets discussing riffs and records and concerts, he also obviously cares about the kids he works with in the group homes. It's refreshing to meet someone like Fancey, whose grounded, friendly manner and the altruistic nature of his work (though he tries to downplay it as such) stand starkly at odds with many people's idea of the hedonistic, egocentric life of a "rock star." This may not last though—"As soon as we get some more play on American radio stations," Fancey joked. "Then it's Lamborghini time."