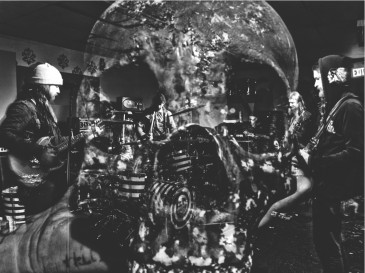 The Reverend Al Green is not the sort of music one would expect to hear in the East Vancouver jam space of the six-headed beast that is Tobeatic. The group — Gordon Smith on vocals and guitar, Mike Gittens on keyboard, Rick O'Dell on bass, Joel James Lowen on drums, and Troy Horton and Broc MacInnes handling guitar duties — describe themselves simply as "a rock band," which is both reductive and expansive, depending on how one views it. Though prone to the heavier end of the spectrum, Tobeatic's sound runs the gamut of rock 'n' roll, producing music that's sludgy yet upbeat, devastating yet melodic. The Sabbath influence is clear, but here it sounds mixed with equal parts Thin Lizzy and Motörhead, raising the band to Corrosion of Conformity or Clutch territory.
So it might be surprising that the gang is jamming out to Shaolin Soul, a Wu-Tang Clan-arranged oldies compilation, as they set up their massive amount of gear for the evening's practice. It seems to be this open appreciation of music that helps define Tobeatic's sound. "We listen to all different kinds of music." says Smith, with MacInnes adding "It's how we end up playing with bands like 3 Inches of Blood and then opening for Howlin' Rain, who sound totally different."

It was Smith and MacInnes who jammed together first before Smith met and recruited the other four over the next year. "We tried out three different singers before we finally came back to Gord," says Gittens, as the rest of the band jokes about one dubbed Mr. Entertainment.
"He bailed; said he was following a trail of panties to California," says Lowen, laughing. The six members that became Tobeatic formed later in 2011 from other bands, like Cooked and Eaten, Smith's death-grind project with Dan And (Bison BC), who are wrapping their jam as Tobeatic begins.
"Sometimes that's how it goes, one right into the next," says Smith, smiling with a half shrug. "I'm actually down to one band now," says Gittens, laughing. "It can be tough with all the other bands, but as long as we all show up here Thursday nights, it works."
Work is precisely what Tobeatic has been doing a lot of.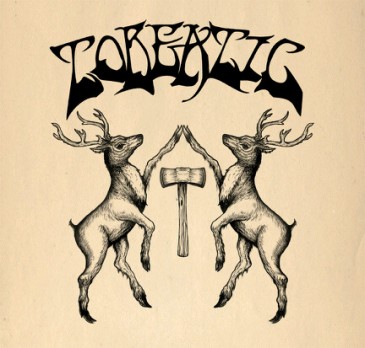 All to Hell, their debut full-length, took three different recording sessions to reach its current incarnation. "First we had someone come in and record us here in the jam space. Then we spent a bunch of money recording at Mushroom Studios and the songs still didn't really sound right. So we went to work with Jesse [Gander] at the Hive," says Gittens, to which the band all agree was an obvious and rewarding choice. "We recorded it pretty much live off the floor," says Horton.
With that, in a swift and speedy four-day session last November, the record was finished. When asked about the ease of working at the Hive, Gittens adds with a laugh, "Well we better have known the songs by then!" The seven songs, like the band's name, are inspired by the Tobeatic Wilderness Area in Smith's native Nova Scotia, where he spent a lot of time before moving west.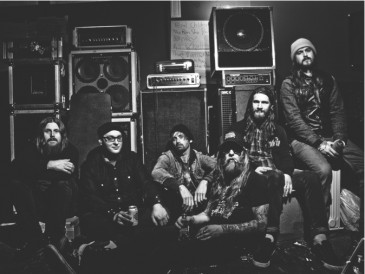 Now that Tobeatic has released All to Hell digitally (February 11), next is the physical edition planned for June. "It's just easier sometimes to do it yourself. You don't have to wait on anyone," says Gittens about the self-releasing route the band chose. They're hoping the second release date coincides with a short tour through Alberta, including Calgary's Sled Island Festival, if all — show booking, festival applications, and above all, coordinating the schedules of six band members — goes accordingly.
"It's a miracle just getting us all in this room once a week," says Gittens with a grin, "but as long as we're getting together and making music, that's all we care about."
As we wrap up and they get ready to rip, Gittens asks, "Do you want earplugs?" and with that the beast called Tobeatic awakes from its slumber. The group forms a semi-circle in front of me and plays 11-minute epic All to Hell-closer, "Frozen Ocean," followed by the bluesy dirge of "That Boy's Got the Devil In 'Em," crushing me in my seat with waves of sonic heaviness. As they kick into uptempo head-banger "The Axe and the Fire," one thing is certain: they definitely don't suffer from a lack of volume.
____________________

Catch Tobeatic decimating eardrums with Anciients and Wiser Fool at the Astoria on April 19.