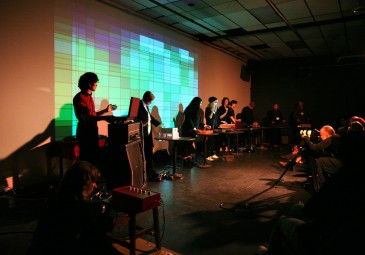 Scary Music
On June 25, The SLAB 5 Experimental Theremin Orchestra made their debut at the 2011 Signal and Noise Festival held at VIVO Media Arts.
The Orchestra is a twelve-piece outfit of homemade theremins – an electronic musical instrument controlled by the motion of its player's hands around two antennae. Though their title may evoke the image of a group of strictly trained performers reading through an incomprehensibly complex musical score, in reality these electro-sonic explorers had just one rehearsal before their festival debut. Their score was more a general outline of what sort of musical experience they intended to create. It was a fantastic experiment that thrilled the audience, but one of those things that only the rare noise connoisseurs might enjoy listening to on a recording. Definitely something that should be seen live.
You might be wondering where the SLAB 5 part of SLAB 5 Experimental Theremin Orchestra comes from. After all, if there are twelve players, why not SLAB 12? What's SLAB anyway? SLAB is an annual subsidized workshop series held by VIVO which effectively blends education, creation and presentation. For the record, this one is the fifth. Short for Studio Lab, it's intention is to provide a venue for young media artists to experiment and receive guidance from veterans of the niche. The show at Signal and Noise was just one component of SLAB Coordinator Dinka Pignon grander vision. Though originally envisioned as a fifteen-piece ensemble, time constraints struck out three of the artists hoping to play.
Their debut showed promise, but the Orchestra has room to grow artistically. Audiophiles will appreciate their raw circuit sounds and simple effects, and I can also see some of the free jazz crowd really digging the interplay of chaos and drone. Have no illusions, though, the operative component of the Experimental Theremin Orchestra is the experiment, and if you took high school chemistry, you know experiments can turn out a few ways. The results were satisfying, and the audience at VIVO showed their enthusiasm via some serious applause, but it could be argued that more magic could be juiced from the fruit of their labours.
At an artist talk wrapping up the festival, several players expressed their plans to continue working together. Insiders say that Giorgio Magnanensi of Vancouver New Music is interested in getting the group together for another gig. Let's hope their promise matures and Vancouver sees more from the thinkers and tinkerers at SLAB.