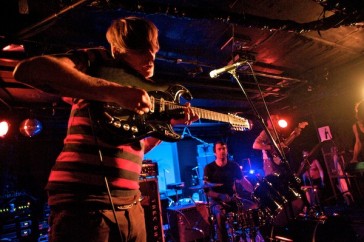 I Was Denied
While fronting a weirdo German techno outfit Zeigenbock Kopf John Dwyer achieved notoriety by smuggling cocaine through the UK border a weirdo German- techno outfit, Thee Oh Sees front-man John Dwyer after this episode naturally smashed up a bar in his underwear only to awake days later in a London Hospital. Yet for those who have come to love San Francisco's seminal garage-punk band, Thee Oh Sees this would come as no surprise. Dwyer, with his cracked teeth and gleaning retrospective '60s fuzz creates a splitting sound, one which has made Thee Oh Sees the most prolific figures in San Francisco's underground scene.
Thee Oh Sees have produced ten releases in 2009 alone. Their most recent LP, Warm Slime takes a different slant from previous records, recorded in an isolated studio in their hometown Sacramento's industrial section, rather than John Baccigaluppi's Hanger Studios. Tracked on an old Tascam 388 eight-track tape machine, the band recorded the album as if to capture their live sound. Recorded in about eight hours, the album tears up fuzzed-out riffs, slung with gritty echoes and infectious frenzy throughout the length of the album.
Honestly, you have to believe the hype about their reputation for putting on a god-forsaken ass-kicking show. For playing 150 shows a year, Thee Oh Sees channel an explosion of frantic deluge leaving the crowds sweaty and rinsed with beer. With his characteristic mic-biting, high-slung guitars and bangs fringed with perspiration, Dwyer lends the crowd through a wild-eyed and white-knuckled experience.
Highlights of the night included "Meat Step Lively," which threw the crowd into a pile of chaos. John Dwyer, playing his guitar while wearing a stained white tanktop, led the crowd with riffs that let them disappear into the music. "I Was Denied," from their most recent LP, created a vortex of ferocity, with drummer Mike Shoun anchored in a repetitive, rock-solid groove and Brigid Dawson overlaying the piece with her gorgeous vocals.
Without a doubt, there was a consensus that the entire set was too short. After the 13 minute "Warm Slime," which culminated the night into an extended glory of riffs, slowly edging back into into Petey Dammit's throbbing percussive bass line, the crowd was ushered out of the Biltmore to make way for the later show.
At the beginning of the show I was only able to catch the last glimpses of local openers Dead Ghosts, who I was fortunate to have seen at Scratch on Dicks (and highly recommend checking out). "Girl Across the Street" and "When it Comes to You" were among the highlights, in the vein of jangly '60s garage-rock and steady soul riffs.