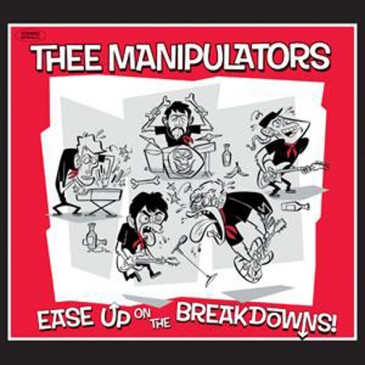 Thee Manipulators – Minor League Fame
Thee Manipulators – Keep The Boots On, Baby!
Thee Manipulators have been blowing up stages around Vancouver for a few years now and it is about time they laid some tracks down. With resumés boasting membership in now legendary Vancouver garage/punk bands like the Hell Caminos, the Gung Ho's and the New Town Animals, it is no wonder that this band's recently released album is a ball of garage rock fury. Boogying keyboards and loud, fuzzy riffs are set on top of bouncing drumbeats while Mike Roche's explosive vocals tie things together (and prove him to still be one of the city's most charismatic frontmen). It is garage tone with R&B boogie and punk punch that will have you bopping in front of the bathroom mirror with a hairbrush for a microphone! Thee Manipulators have managed to bottle their furious live energy and sell it for private consumption. Ease Up On The Breakdowns is a blast, boasting hits like "Ooga Booga Man" and "Keep The Boots On Baby." They only fully draw back on the throttle once, the R&B swagger of "Petals of Petulance" reminiscent of the Rolling Stones' Exile on Main St. (a bold statement indeed). Ease Up is a poignant garage rock manifesto written and vigorously delivered by an all-star lineup of Vancouver musicians.