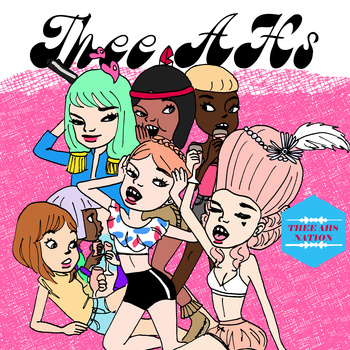 Ah, the return to innocent sounds of youth is a lAHvely thing, no? Vancouver's Thee AHs' Thee AHs Nation is certainly an easy one to take in. One might think this music lacks in "substance"—and that may very well be true if substance equals complex lyrical theories and intense chord progressions.

No, this is more like that band fresh out of high school whose members are still trying to figure out how they fit into their skin, and the weird feelings that happen when that cute boy or girl awkwardly says hi while passing by on the street. I'll admit that this isn't music you'd find figured prominently on my playlist, but I don't dislike it. I suppose when I need a dose of lollipop rock this would be an easy go-to, and I'm sure that if ever the need arose to make that cute nerd-girl swoon, an AHs gig might be the way to go.
With a world-weary but naïve sugar punk flair, Thee AHs Nation explores lovesickness, feeling unsure of oneself, the risks of heartbreak and even a dark but innocent turn to the subject of death. "Music Snob" is kind of perfect, because who hasn't entertained the thought of dropping a crush because their taste in music is either too intimidating or just plain bad? Sometimes even the influential mix tape doesn't work ("I'm not a music snob but you're making it so hard.")
Who needs ambiguous multi-meaning lyrics and hard-to-follow riffs when you have the easy stay-puffed sounds of Thee AHs?