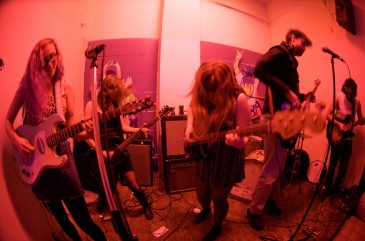 Might 2013 be Thee Ahs' marquee year? It might be, if their performance at the February 2 release party for their second CD, Future Without Her, was any indication.
After a pre-show dance party, comedy-rockers Classic Rick and his Classic Rockers opened, their first post-SHiNDiG appearance – an appearance that almost didn't happen. "It's been three months of JD, LSD, and lots of other Ds," the band's eponymous frontman said, playing up the faded stardom of his Classic Rick persona by looking hungover.
The Classic Rockers jammed sloppily, pretending to be a newly hired band unfamiliar with their material. Classic Rick admitted later in the set, "I've stopped caring whether I'm in tune or not."
Nevertheless, Classic Rick's burnout schtick didn't last, and after a brief interlude of tuning and mock-tuning of guitars, the band changed gears with a raucous new song. Punk Rick, anyone?

Closing off in classic form, Classic Rick then played fan favourite "Shame on Love," followed by a jam with Davina Shell of headliners Thee Ahs.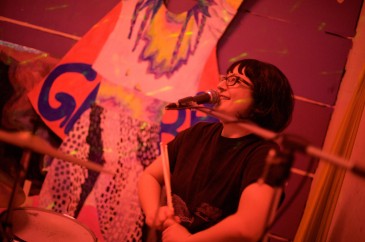 PUPS was next and featured Rose Melberg, Caitlin Livingston, and Katie Gravestock. Despite too much reverb in the mics and amps being turned up too high, PUPS still managed to serenade the audience with back-to-basics indie pop.
Fronted by the sweet-voiced Sarah Lowenbot, Thee Ahs were off to a quiet but confident start; the "black bubblegum" popmeisters have grown considerably since releasing their first full-length in 2011 and embarking on a cross-country tour last summer.
Though their set that night was captivating to begin with, things got more exciting when Thee Ahs's saxophonist (who goes by an unpublishable nickname) let things rip, with the band following suit. The audience ate it up, and started interpretive dance routines in front of the stage.
It would have lasted longer, but alas, the Zoo Zhop couldn't stay open that late. It was curtains past the stroke of midnight. Not quite on time, but who could blame 'em?