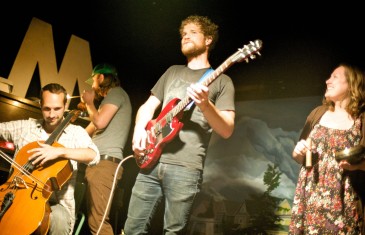 Hermit
Housed in the small, charmingly rustic, Little Mountain Gallery, the comfort and smoothness of folk could be heard. The crowd lingered and chatted or strolled past inspired Main St. drawings, slowly converging in front of a small stage lined with a painted landscape backdrop, scattered instruments and an assortment of folding chairs assembled in front. This was a venue to highlight singular acoustic bliss and enveloping melodic resonance.
The Mountains & the Trees, a solo unit hailing from the Eastern coast—Newfoundland to be exact—took the stage with a relaxed and inviting presence. Charmed by his accent and anecdotal banter, I enjoyed listening to his plucky but smooth guitar riffs, along with his banjo work, as he strived at an uplifting melancholic feel; however, the lyrics though earnest, gave the songs a bland tilt and I found my attention wandering. He quickly brought me back with "More More More" which interjected a new sound and churning pace, making it clear why it was the single off his new album.
The Wilderness of Manitoba jumped on staged right after, sparing the moments taken to light incense and arrange the singing bowls. Opening with an impressive three-part harmony, complimented by lush cellos and guitars, the band quickly drew the crowd to a stunned hush. Sacrificing large drum sounds for minor intricately placed percussion and a constant switching between cello and banjo, acoustic and electric, they cultivated music that was reminiscent of back porch cottage country, but one haunted by the ghosts of folklore. The atmosphere contributed to the combined feeling that this band was good, but I wonder if their music could be translated to other venues. It seemed their boisterous sound was well displayed through a single microphone, but can it deliver on a bigger stage? I will be at Little Mountain Gallery again, and I might watch these bands again, but I don't think I will venture to a larger venue to see them.