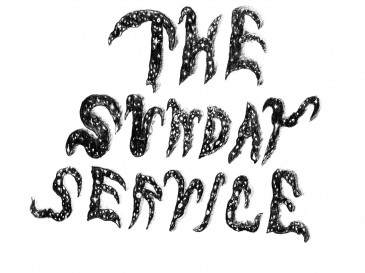 It turns out Canada's next greatest export after Tim Horton's and asbestos is improvised comedy. Attesting to this fact are the long and storied careers of the veteran improvisers of the Sunday Service. Since 2006, the group – Emmett Hall, Aaron Read, Taz VanRassel, Caitlin Howden, Kevin Lee, and Ryan Beil – has run a weekly improv show on Sundays at the tragically spelled Kozmik Zoo on Broadway (formerly Hennessey Dining Lounge). In August they won a Canadian Comedy Award for Best Improv Troupe, an accolade of no small importance in a country apparently rife with improv activity. The group, who the UBC Improv website calls the "final word on improv in Vancouver," garnered six CCA nominations this year, including best web clip, best podcast, best female improviser and two nominations for VanRassel and Beil for best male improviser.
"Improv is something that Canada doesn't play catch-up in with the rest of the world," says Beil, one of the Sunday Service's longest standing members. "We're on the forefront of it."

Most of the Sunday Service players first started doing improv in high school and at the Canadian Improv Games, which has provided improvising teens with an instant, nation-wide community of like-minded jokers for almost forty years. Contrast that kind of tradition with Howden's current gig teaching improv to students in Poland where, as she describes, "They only started doing improv, or even heard what improv was, about three years ago." Canada's love for spontaneous, breakneck paced improvised laughs has created a large and tight-knit network, and the foundation for some career-spanning relationships.
"That's how I met Ryan," recounts VanRassel, "through the Canadian Improv Games. He was 17, I was judging."
"Inappropriate relationship," interjects Howden.
"Very inappropriate," agrees VanRassel, without skipping a beat. "I asked him to be on a team with me at an underground improv tournament. And we've performed together ever since."
When Discorder asks what the difference is between an underground and mainstream improv tournament, VanRassel gives a quick shrug.
"I don't know," he says. "[The tournament] was literally in a basement."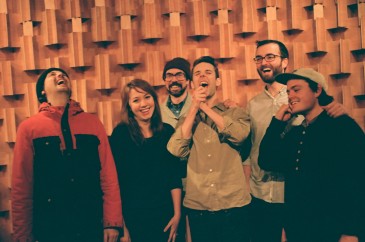 Nearly a decade later, the Sunday Service formed as a group out of the collapse of a weekly night by the same name, which had run for a year at the now defunct Wink on East 8th Ave. Members came and went, most notably, Vancouver's improv guru Alistair Cook, who served as original host of the show at Wink; and Craig Anderson, whose move this year to Toronto has earned him the title of "seventh member on reserve." Howden, who moved to Vancouver from Toronto in 2011 and joined at the beginning of this year, is the most recent addition to the lineup.
Hall provides musical accompaniment on piano during the shows, and also produces the group's podcast, the Sunday Service Presents: A Beautiful Podcast. For this monthly show, the group records improvised scenes in studio (Hall's house), which becomes the raw material for a kind of chopped and screwed improv experience that includes everything from songs to sketches and special guests. Guests on the podcast are frequently comedians and performers from, or passing through Vancouver. According to Lee, during the Vancouver International Improv Festival, the group collected guest improvisers "like krill through the bristle teeth of a whale." Recent guests have included Dave Shumka from Stop Podcasting Yourself and Pat Kelly from CBC's This is That.
Beyond being simply the best of their kind in Canada, members of the Service all enjoy accomplishments in their many pursuits beyond improv, as actors, comedians, musicians, and writers. But in a fashion perhaps classically Canadian, when talking about their success, the responses swing widely between false hubris ("I'm kind of a big time theatre actor," Beil says when prompted to talk about his work. "Sort of the best in the city.") and the kind of self-deprecation that feeds off the humour in the downside of everything. When recounting the Sunday Service's showing at the Canadian Comedy Awards, Howden reels off the list of awards they received nominations for but didn't win:
"Neither Ryan, nor Taz or myself won. And we didn't win for best podcast. And we also didn't win for best web clip… So, it was nice to win something." And, just like when they are on stage, the team starts to ratchet up the absurdity of the situation with a rapid-fire barrage of quips.
"We won the one that we wanted," Hall says in earnest.
"Yeah, and it's the biggest one, too," follows VanRassel.
"It means everything," says Beil. "The other ones mean nothing."
"It's all parts of a whole, and we won as a whole, so all the parts can go fuck themselves," Howden declares.
Through the jokes it's clear that the group is aware of their growing success, and appreciative for the recognition. It's a complicated pursuit, making something so ephemeral and site-specific as live improvisation into your business, but the Sunday Service seem aware of the hurdles they face in terms of growth potential.
"It's hard to pre-package and sell it [because] part of the magic of improv is being there live and seeing us walking a tightrope in front of you," Lee explains. "If you see it on tape, you're like, 'What else is on?'"
"It's tricky to find what that next step is, especially because we're laying the track as we're doing it," adds Hall. "Vancouver doesn't really have any format to follow in terms of having a successful career in improv."
Considering that they've got the longest running and most popular improv night in the city, and have just won an award for being the best improv group in Canada, the Sunday Service appear to be drawing a pretty decent blueprint for future improvisers to follow.
___________________

In an attempt to delve deeper into the strange and mysterious collective psyche of the Sunday Service, the group was asked to provide and answer their own interview questions. Here's what happened.
Aaron:
Is that your real hair?
Yes, unfortunately.
Emmett:
If you had to "Freaky Friday" with one other member of the group, who would it be?
Um…
Caitlin:
I have boobs!
Emmett:
Yeah, let's go with Caitlin Howden.
Taz:
Where's the craziest place you ever made whoopee?
Ah, there's a berm in false creek, and that's all I'm saying.
Caitlin:
If you were a burrito, what kind of sauce would you taste best with?
I like a chipotle lime.
Taz:
Very white.
Caitlin:
Okay, well, and how about some salsa – made from scratch!
Kevin:
How do I get home from here?
(provides circuitous directions to beneath the bleachers at the Kerrisdale skating rink)
Ryan:
Where do you get your ideas?
Not to beat a dead horse, but check out The Voyage of the Mimi.