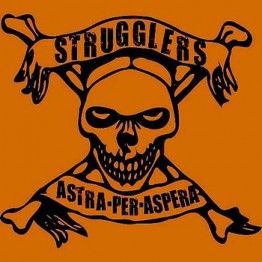 The Latin phrase "Astra Per Aspera" loosely translates into "through adversity to the stars" or the more gritty "from the mud to the stars." This bold and determined acclamation makes a great title for a collection of punk songs by a lot as tenacious as Vancouver's The Strugglers. The ancient mantra is aggressive yet hopeful, much like The Strugglers' music. And it should be noted, it seems there is more than likely an intellectual at work here too, making reference to Herman Hesse's Beneath the Wheel, where the phrase is used by the Headmaster to demean the main character's dedication to music.
Astra Per Aspera is punk rock at it's finest. The eleven tracks offered up mirror the set list The Strugglers have been busily blasting out all over town the past few months. To some, the group's music may sound typical and unoriginal, but a refined ear can easily deduce what sets The Strugglers apart from the masses.
Along with the eight originals on Astra Per Aspera, however, there are three carefully chosen covers: the Misfits' "Horror Business," Bad Brains' "Pay To Cum" and Blitz's "New Age."
Originals like "Anthem" and "Leaf Blower," meanwhile, merge their obvious influences to create their own distinct sound, placing themselves at the intersection of classic English street punk and original North American hardcore. The result is fast and furious, with songs playing out both aggressive and fun.
Despite the bookish title, The Strugglers completely lack pretense. They are a group of friends playing music and having a good time, in the process drawing the audience to the party. Astra Per Aspera is like a contraband roman candle shoved into the mud, sending vibrant balls of fire and lighting up the East Van sky.