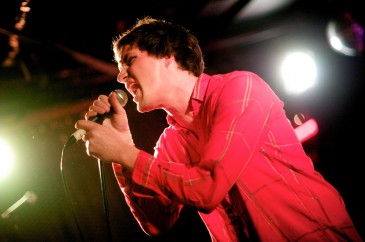 Ubiquity breeds annoyance. In the early 2000s bands like the Soft Pack were bloody everywhere.
Floppy of hair and tight of jeans, bands like the Strokes, BRMC and the White Stripes were massive, and as with the emergence of any successful subgenre or movement (see Grunge in the '90s), hundreds of other bands suddenly seemed to materialise out of nothing overnight. While "The New Rock Revolution" (as it was dubbed by NME) has never really gone away, its all prevailing reach has at least retreated a bit, which means that instead of dismissing the Soft Pack as also-rans in an already overpopulated genre, we can appreciate them on face value and realize that they have a lot to offer and enjoy, as they proved with their headlining slot at the Biltmore.
A few hours earlier, support act Kurt Vile performed an acoustic in-store set across town at Zulu Records. Getting off to a very tentative start, he fumbled through a very unsure "He's Alright." If he was busking on Granville, you may very well have just walked past. That is until he played "Blackberry Song." A sweetly beautiful song, its graceful simplicity translated brilliantly in the confines of the surroundings, better in fact than it does on his latest album, Childish Prodigy. Even if there were only flashes of greatness, one might realistically suspect that Vile was a little nervous, because after all, who doesn't feel the oppressive judgemental gaze of the Zulu staff?
Later on at the Biltmore and with his band the Violators backing him, Vile seemed much more at ease. His vocal phrasing and delivery occasionally came across like a more stoned and less fervent Bob Dylan as on "Inside Looking Out." Vile seemed relaxed to the point where his laid back style almost became boring and was saved only by the comparative enthusiasm of his band mates. A propulsive rendition of "Freak Train" kept the momentum moving and as if to seek redemption from anyone who witnessed the underwhelming version of "He's Alright" earlier on—he played it again this time with much more conviction and set the record straight.
Opening with a wry and intentionally awkward cover of the Rolling Stones' "Start Me Up," the Soft Pack swiftly switched gears into a raucous "Right and Wrong." One of the refreshing things about the band is their nondescript appearance. It shouldn't matter how a band dresses but it does play a part in how they're appreciated and the fact that they're not in the requisite uniform of their genre makes them seem all the more sincere and authentic. In a live setting, the songs from their recent eponymous album have much more energy and edge, "Parasites" being particularly effective.
The highlight of the night had to be the perfect pop of the very Buzzcocks-esque "More or Less," which exhibited the core strength of the band—the ability to adeptly combine their garage rock and post-punk influences into songwriting that easily stands up against all that has come before them.