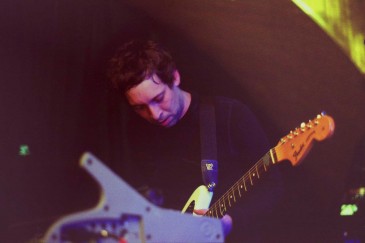 Breathe The Fire
Local synth-wavers Cosmetics kicked off the early show at the Waldorf Hotel with a sexy mix of killer glam and darkly textured beats. Occasionally trading places with each other at their twin mini-synthesizer stations, the minimalist duo drew from the more sinister corners of their retrospective influences as the spicy songstress Aja Emma delivered her seductive reverberated vocals to the backdrop of a bizarre drag queen sex scene from Andy Warhol's satirical film Women in Revolt. Between the danceable "Sleepwalking" and the sawing synths of "Soft Skin", the duo provided a fitting introduction to the post-apocalyptic sound of San Francisco's the Soft Moon.
Showered in mesmerizing projected visuals, the three uniformly black-clad members of the Soft Moon started up their set with the sounds of a pulsating drum machine, launching straight to the point with the very self-declarative "We Are We." Using a formula of penetrating bass, echoing vocals and a sparingly used guitar atop a driving, mechanic beat, the band shaped spine-chilling abysses of post-punk with hazy traces of Joy Division and Bauhaus.
Throughout the night, frontman Luis Vasquez was off somewhere in a teetering balance between frantic extroversion and musing introspection. The slightly frozen crowd at the Waldorf's tiki-themed cabaret didn't seem to mirror this enthusiastically, possibly due to a slight lack of distinctness between the group's songs. They could, however, have just as well been too deeply immersed in the Soft Moon's gothic gloom. Nevertheless, the trio managed to pull out some great surprises like "When it's Over," which started out slowly on a clean guitar riff that recalled Interpol in their better days before being swallowed up by an overwhelming wall of screaming, psychedelic synth sounds. This was complimented by the constant strobing intensity of the reeling visuals that were screened behind them. Lacking no amount of great post-punk tunes nor avant garde eye-candy, the Soft Moon managed to pull off a chillingly exciting experience.