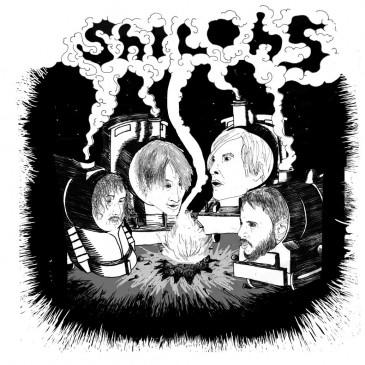 Recording an EP in a building that's rumoured to be haunted in the middle of the night during a heat wave would tend to make anyone a little crazy. Drummer Ben Frey of the Shilohs elaborated, "The last song we recorded was at 5:30 in the morning … the laugh you hear in the beginning of the song 'Having a Good Time,' that's me laughing at Johnny [Payne] talking to a stuffed lizard with a cigarette in its mouth."
Despite the unique circumstances, what came out of the recording process were beautifully crafted countrified pop and mellow folk jams on the Shilohs debut self-titled EP.
I met Frey, bassist Dan Colussi and guitarist Mike Komaszczuk at Jonathan Rogers Park, and ended up speaking to guitarist Johnny Payne over the phone the next day as he's currently touring with his other band, Fanshaw. We discussed the band's unorthodox recording process for their first EP, working with Steve Bays and their future plans.
The band's beginnings stem from a mutual love of bands like Big Star, Burrito Brothers, the Beatles and similar bands from the late '60s and early '70s. Their love for that era is evident from the six songs that make up the EP. Beginning with catchy pop tunes such as "History of Love," the EP progresses into bluesy folk jams. "The chemistry was instant," said Payne, who the other members describe as the ringleader of the group. "I knew I wanted those guys in the band. They're some of my favourite people I've met. I loved Ben's drumming and his pleasant vibe. I had an instant connection with Mike, and Dan is my brother from the Island. So playing and hanging out with those guys is just great," he explained.
After writing a multitude of songs the band began to record their EP. They hooked up with Steve Bays of Hot Hot Heat and recorded in his Tugboat Studios, located in the Dominion Building in the heart of downtown. Since the building is comprised mainly of offices, the band recorded the EP in the middle of the night to avoid the noisy work day. "We wanted to do it live like Neil Young and Crazy Horse style. So to do it in the middle of the night gave it a gritty feel," Payne said. "It helped us get in the mind-set and we'd save the quietest songs that relied on intensity for the 5 a.m. session."
The guys were stoked about working with Steve Bays and the collaboration came easy to them. As Frey explained, "Johnny is friends with Hot Hot Heat's drummer [Paul Hawley] back from Victoria. He heard some of our demos and saw us play and was psyched. He was buzzing off of what he could do and he put so much energy into it and when we told him we wanted to go home he'd be like, 'What? It's only 6 a.m.!'"
Payne added, "He was great to work with. It was the first thing he ever produced aside from Hot Hot Heat, so there's something nice about it when the producer is just as new to the process as the band. It leaves room for experimentation."
Listening to the EP, there's a noticeable progression from the up-tempo songs into ballads, so I asked the guys whether this was intentional. "We actually recorded ten songs, but we felt the six we chose worked perfectly together and flowed sequentially. It's like watching a band play a set and they play a song that didn't fit right. It could've gone anywhere else. If you don't structure it properly, it ruins it," Frey said passionately.
Komaszczuk chimed in, "Ben's our set-list guy."
So will we hear these four scrapped songs any time soon? "They're done," Komaszczuk said.
"You think so?" asked Frey jokingly. "We could always do a B-side. And there's always Record Store Day."
The band members are no strangers to the stage, having played in introspective rock and punk bands since high school and opening for Cold War Kids last year. So what can you expect at one of their shows? "A typical Shilohs show is us not bothering to do sound check cause there's a hockey game upstairs," Frey joked. "No, that's only happened once. Generally, we're getting a lot more tighter. We have a nice calm about us and our songs have a lot of feeling to them."
According to Payne though, his concern was with the audience. "I always hope we can play a show that will make people want to dance when we play our fast songs and nostalgic when we play our slow songs. My favourite thing in the world is when they dance," he said. The best compliment he ever received to describe a Shilohs show was this: "This girl came up to me after and said, '[your] music sounds like the type of music when you're on a road trip. You're kind of tired, but you turn on the radio and realize you're having a great time.'"
The Shilohs plan to head back into the studio in August to work on their first full-length album. "We definitely have some numbers that resemble Chuck Berry, just mellower jams. They feel like when we first started [and] we wanted to sound like Big Star," Frey said. This time, the band will be working with local producers JC/DC, best known for their work with Vancouver's homegrown talent Destroyer and the New Pornographers. In the meantime, you'll have a chance to check out the band for yourself come July 24 for their EP release party at Little Mountain Studios. If you decide stop by, make sure you dance. It'll make Johnny happy.