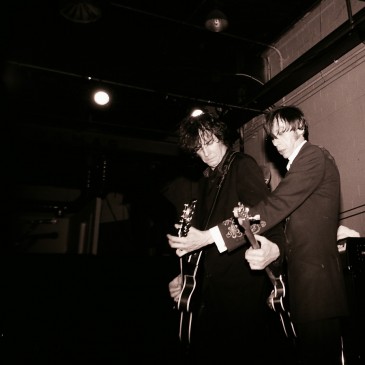 The Sadies are a ceremonious band. Dallas and Travis Spiller's dad, Bruce Spiller is a member of the Good Brothers, inductees in the Canadian Country Music Hall of Fame—hence the boys were born into a musical life. Their years on the road wear heavy on the shoulders of their tailored country and western suits. The cigarettes they've smoked and the whiskey they've downed on their perpetual tour of the finest ballrooms, bar rooms, festivals and legions this fine country has to offer, shows in the wrinkles around their smiling eyes. The brothers play with the accompaniment of Mike Belitsky on drums and Sean Dean on standup bass. In their travels and numerous studio collaborations, the foursome has polished their act and become one of the tightest acts on the road.
Every live performance the Sadies play feels like a homecoming. They've played so many great shows in so many cities that they've amassed a real cult following and fostered an extended family of friends, fans and fellow musicians. The sellout show at the Hive had members of local favourites Spoon River, A Pale Blue, Blood Meridian and Chet, amongst others, in attendance.
The Sadies didn't need any openers and played their usual rapid fire set of their original blend of Spaghetti Western, garage, and surf rock that everybody expected, but was still pleasantly surprised to receive in the way that only they can dish it. Highlights included the usual fan favourite "Stories Often Told," originally recorded by Blue Rodeo and a cover of "Gloria" that was music to my ears. Every member of the band is a larger than life and the showmanship was incredible, including their trademark playing-each-other's-guitar move that you must see to understand. The band happily obliged fans with two encores and graciously thanked everybody for voicing their appreciation of the show.
When the music was over, the band stepped directly off the stage and into the crowd, Travis heading for a cigarette and Dallas joining the folks at the bar, accepting any hand that was offered for shakes. With their suit jackets removed, they blended flawlessly into the crowd illustrating the fact that the Sadies truly are a band of the people.