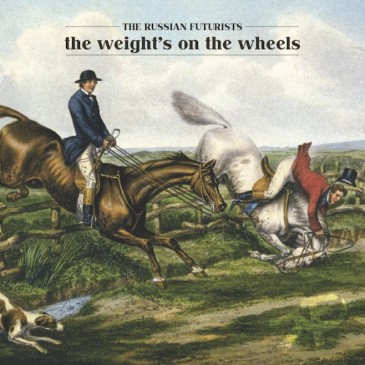 01 Hoeing Weeds Sowing Seeds
The Russian Futurists (a.k.a Matthew Adam Heart) are back with album number four, The Weight's on the Wheels. The Ontario native is probably best know for his punchy pop tracks. Remember that super catchy song "Paul Simon?" That's him.
"Hoeing Weeds Sowing Seeds" is the first track and single off the album. Dancy-dance sounds that swing from one speaker to another, it is a very clear indication of what you are in for with this album.
The Weight's on the Wheels consists of enthusiastic, upbeat, track after track. "One Night, One Kiss" is a cute little duet featuring guest vocalist Ruth Minnikin and some very well integrated castanet action.
"100 Shopping Days 'till Christmas" gets the award for best use of a drum machine on the album and the beat-tastik "Plates" is another killer.
There are so many influences here it is pointless to list them. The Weight's on the Wheels has a familiar vibe, yet it is still an original offering. A polished, warm album that holds the listeners attention from start to finish.
Best listen to the album with headphones to get everything that is going on here. A really cool album for those of you who like your pop music sanguine and drum machines loud.